We search the murky back waters of youtube to find full concerts and post them to the site weekly, come back every seven days to help us celebrate
Full Show Friday's
. These shows are of varying quality and may not be here for long so enjoy them while you can...As always, please support the artist every which way, but especially by seeing them live (if they are still playing)...
This week...
Delta Spirit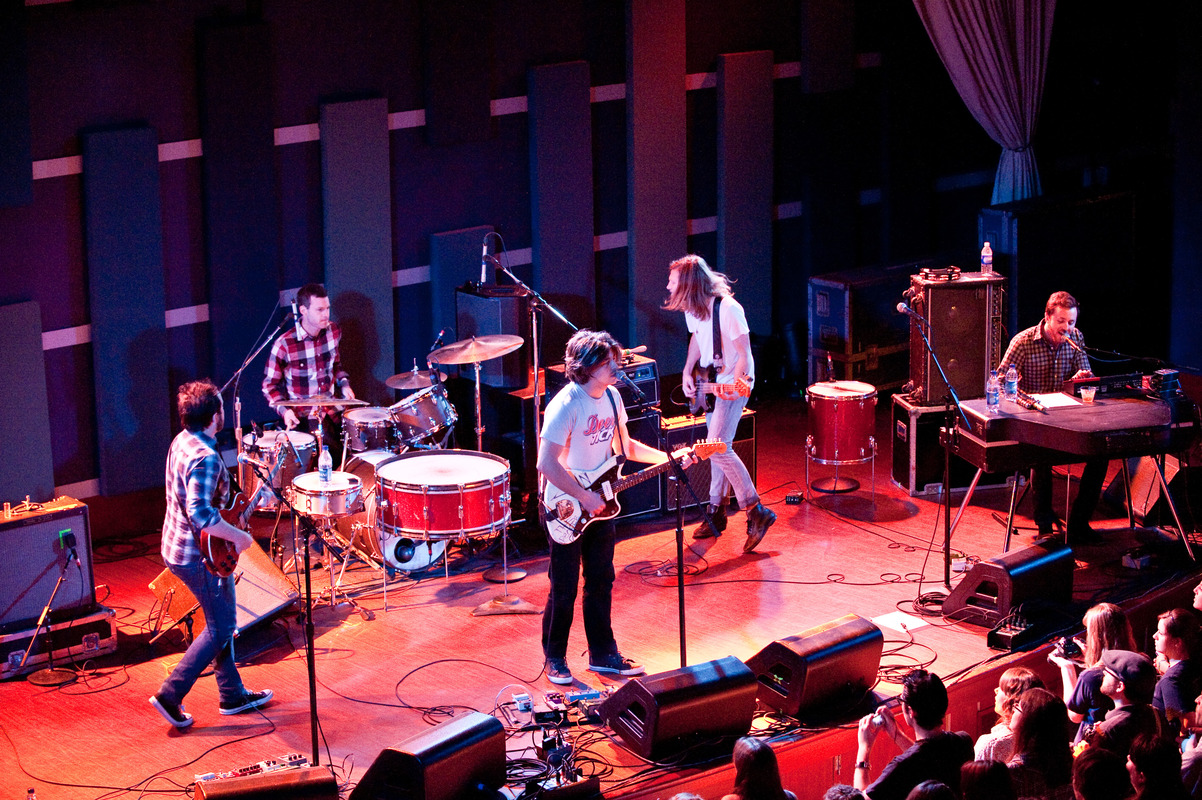 Delta Spirit
are a band that we have seen play very small venues during
their first NYC shows
to
Summer Stage in Central Park
. They always have energy and play fun sets. This one is from Codfish Hollow Barn in Iowa, pretty sure this is our first
Full Show Friday
from Iowa.
It is on their tour for their second album,
History From Below
, and while we
were not the biggest fans of that disk
, this show is a good time. Listen to it, see the setlist and read
Daytrotters
account of things below, and most importantly Enjoy:
Setlist:
0:00:00
- Lovers Waltz
0:04:47
- Bleeding Bells
0:09:52
- Bushwick Blues
0:13:27
- Strange Vine
0:17:27
- Golden State
0:21:28
- Salt In The Wound
0:28:03
- People C'mon
0:31:21
- Ransom Man
0:37:26
- Vivian
0:43:25
- White Table
0:49:42
- St. Francis
0:53:49
- House Built for Two
1:00:37
- Wish You Were Here /Trashcan
1:05:25
- People, Turn Around!
1:14:26
- Crippler King
1:19:35
- Gimme Some Motivation
Summary:
This was a very special collection of bands -- Delta Spirit and Ra Ra Riot (who traded headlining spots all week), Nathaniel Rateliff, Free Energy and Pearly Gate Music -- and the only Barnstormer tour that kept the same lineup every night of the tour. It was filled with old friends and a couple of bands who had been buddies for a while as well.
We started the tour in West Liberty, Iowa, on a pretty perfect late spring night and then moved on to the first tour show we ever did in a legitimate venue, the always great Turner Hall Ballroom in Milwaukee. From there we ran into a strange snag, with the venue we were supposed to be using in Wisconsin pulled out from beneath us the night before the show by local authorities who had previously granted us permission to but the show on. We moved the show to the Walworth County Fairgrounds in Elkhorn, WI in the 11th hour and had a great night there -- playing Whiffle ball on the grounds pre-show. We then traveled to what became our favorite new barn in Monticello, Ill., just outside of Champaign. Definitely the best night of the tour thus far and it's evident in the recordings that the bands were on fire. The final night in Maquoketa, IA, site of Codfish Hollow, the energy and performances were doubled from the night before, with numerous sing-a-longs and guest appearances in sets. This was the first tour that we ended here and now it's the rule for a reason.