Drive-By Truckers
American Band
****and1/2 out of *****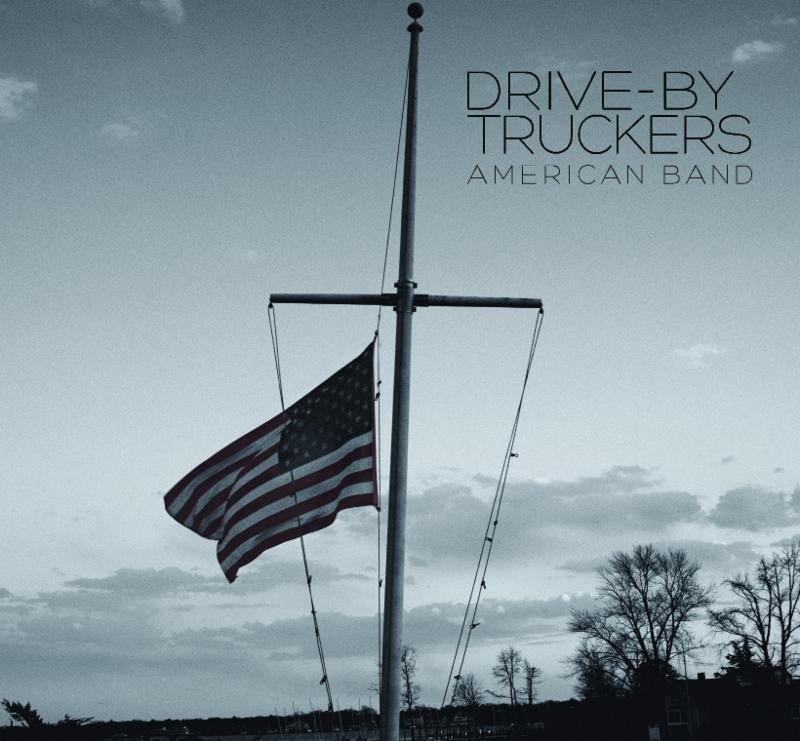 For one of the great American rock band's of all time to name their most politically focused album
American Band,
then give it a cover that is stark black-white with a colored American flag on a stand that resembles a cross...well it is safe to say
the boys from the south got something to say. This album shows their current world views and while politically left for the majority of the album, the lyrics continue in the groups excellent literary way so fans from any side of the aisle can get down.
The first half of
American Band
actually finds the group as close as they've ever come to punk rock in a
Clash
way as the songs are short, direct and poignant. A track like Patterson Hood's "Darkened Flags on the Cusp of Dawn" about the Confederate flag (written the same day
he wrote this
) and "The Guns of Umpqa" are good examples of this attack; even if you don't know
the back story of Chris Mitnz
the song is still a powerful meditation on nature and violence, but knowing, adds huge depth to the track as well as the nonsensical mass shootings hatred.
That combo of beautiful nature (a reoccurring theme since Hood moved to Portland, OR) and fear of the current state of the country, tangle again in Hood's excellent "Sun Don't Shine" which haunts after repeated listens via it's simplicity and honesty. Fellow Trucker and song writer Mike Cooley is equally up to the task getting specific when it comes to the history of guns and border wars on opener "Ramon Casiano" a fifteen year old killed by Texan Harlan B. Carter who (while convicted of murder) spent no time in jail and later went on to lead the National Rifle Association. Again, if you don't know the history or don't care you can still revel in the glorious guitars and rocking production, however knowing, elevates everything to a much higher level.
Cooley goes back to his sly wit and ripping on two faced Religious Right leaders "Hot blooded bible thumpers" on the boogie-wooging "Kinky Hypocrite" digging deep into hypocrisy. "What It Means" dives directly into police violence against black youth in front of organs and pleading vocals from Hood adding direct details of true life events, again adding emotional weight,
While the band has always written about their southern roots or as they put it, "Duality of the Southern Thing"
over 15 years ago
and of course the south looms large here as the band directly address it on "Surrender Under Protest" and "Ever South". The first takes a confederate slogan and turns it into a rousing chorus which may make for awkward singalongs while the verses address the horrific Charleston Church shooting from 2015. The latter (via some grooving bass bombs) easily states the obvious this band is the embodiment of a region of this country, but create such dynamic songs a New York City Yankee (me) can get just as much out of them, if not more than someone from the region. Hood acknowledges this in the linear notes noting there is more of urban/rural divide from his view points these days.
The most timely of the bands albums lyrically could have used a bit more polish when it comes to vocals, as these impressive lyrics are worth hearing and tend to get buried behind the ragged glory of the great guitar wail. However, the vinyl comes with the lyric sheet and it only takes hearing the opening line of "What It Means" ("He was running down the street/when they shot him in his tracks") once to know what you are dealing with.
Hopefully this record will sound dated in 15 years when police violence against minorities, mass shootings, and depression are all eradicated but I got a feeling it will (sadly) be just as powerful and probably heavier and still rank as one of the bands best efforts.
________________________________________________________________
We may take on the task of ranking all of the bands albums someday but while this isn't our favorite it is certainly one of their best. Proof they still got so much to say and we would all be better off listening. Support
the band
, buy
the album
, peep some video: