Aesop Rock & Homeboy Sandman
Triple Fat Lice
*** out of *****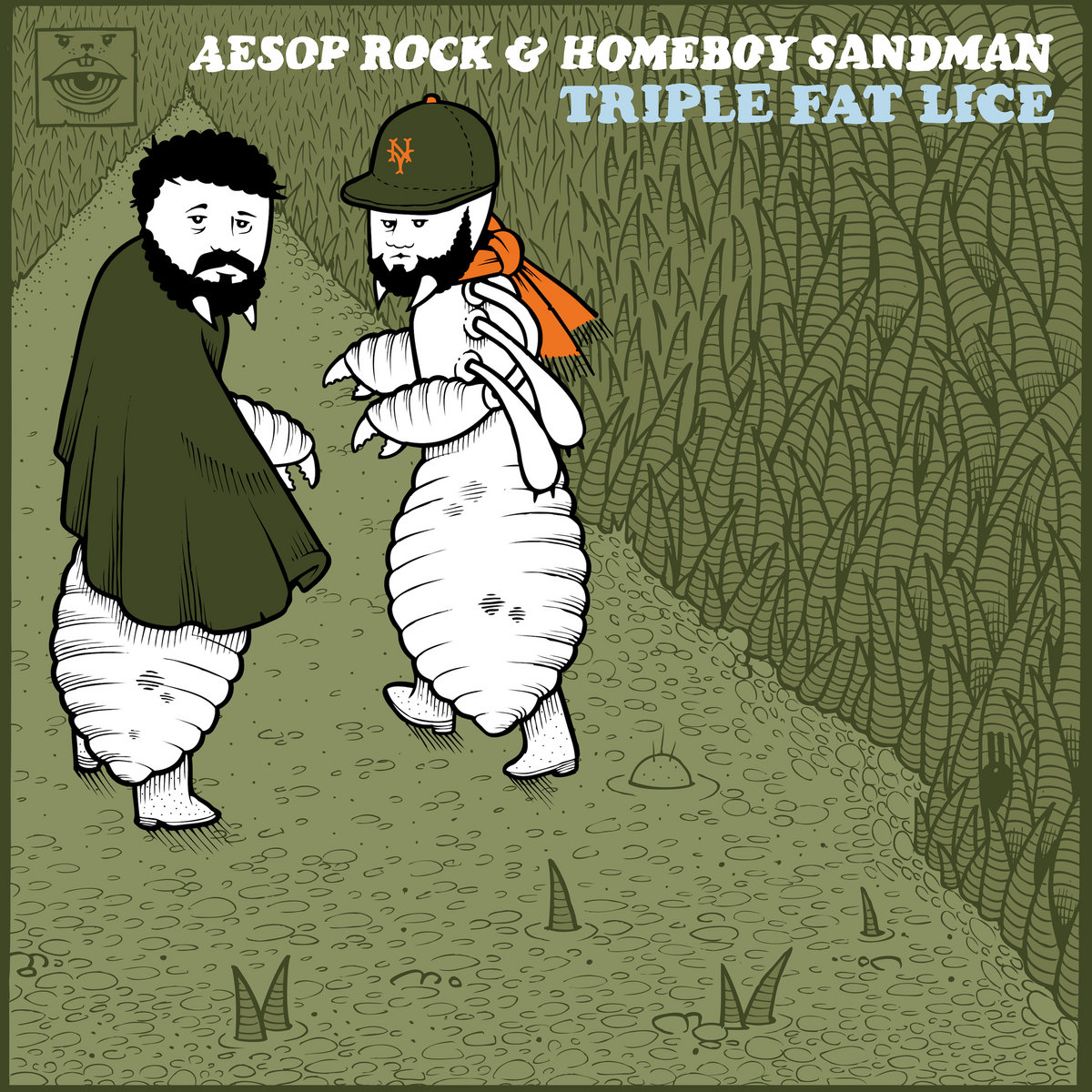 Here comes the third EP from the pairing of two excellent NYC MC's,
Aesop Rock
&
Homeboy Sandman
. Coming on the heels of 2015's
Fat Lice
and the follow up
Lice Two
in 2016 is the aptly named (and gross concept of)
Triple Fat Lice
.
While
RtBE
missed the sequel we are here to review the third installment and
it is more of the same
dexterity and fluid beats from the duo and their guest producers. Opening with computerized voices of a mother daughter combo finding lice comes "Pins and Needles" that is an old school introduction to the EP with a throwback to
A Tribe Called Quest
over skittering piano laced beats from
Cohenbeats
. If anything, the short track ends too early as it moves along with swaggering strides.
The whole EP is an ode to the Native Tongues as "Comfy" takes harsher lyrics and melds them with smooth soul sounds from producer
Oh No
. The funky groove gets deeper as
Ben Boogz
uses
Best In Show
samples around blaxplotation era guitar/bass lines while the MC's deal with commercialism and calories on the best overall track on this EP.
The lows are never that deep though as this whole collection, and everything this duo has ever produced, is high quality. "Yoohoo" is a bit disjointed with bullet fast rhymes not pairing that well with Quelle Chris's syrupy slow beats while" Panacea" works better to close the EP as M Slago incorpates crackling vinyl sound along with atmospheric swells to support the MC's as they roll along.
An overall successful outing that proves Aesop Rock and Homeboy Sandman are consistently professional and confident in their style and power, and no matter the producer the duo continue to stick around your head...well, like Lice.
_________________________________________________________________
Support
the band
, stream the album on
their bandcamp site
or below and peep some video: