Brownout
Fear of a Brown Planet
*** out of *****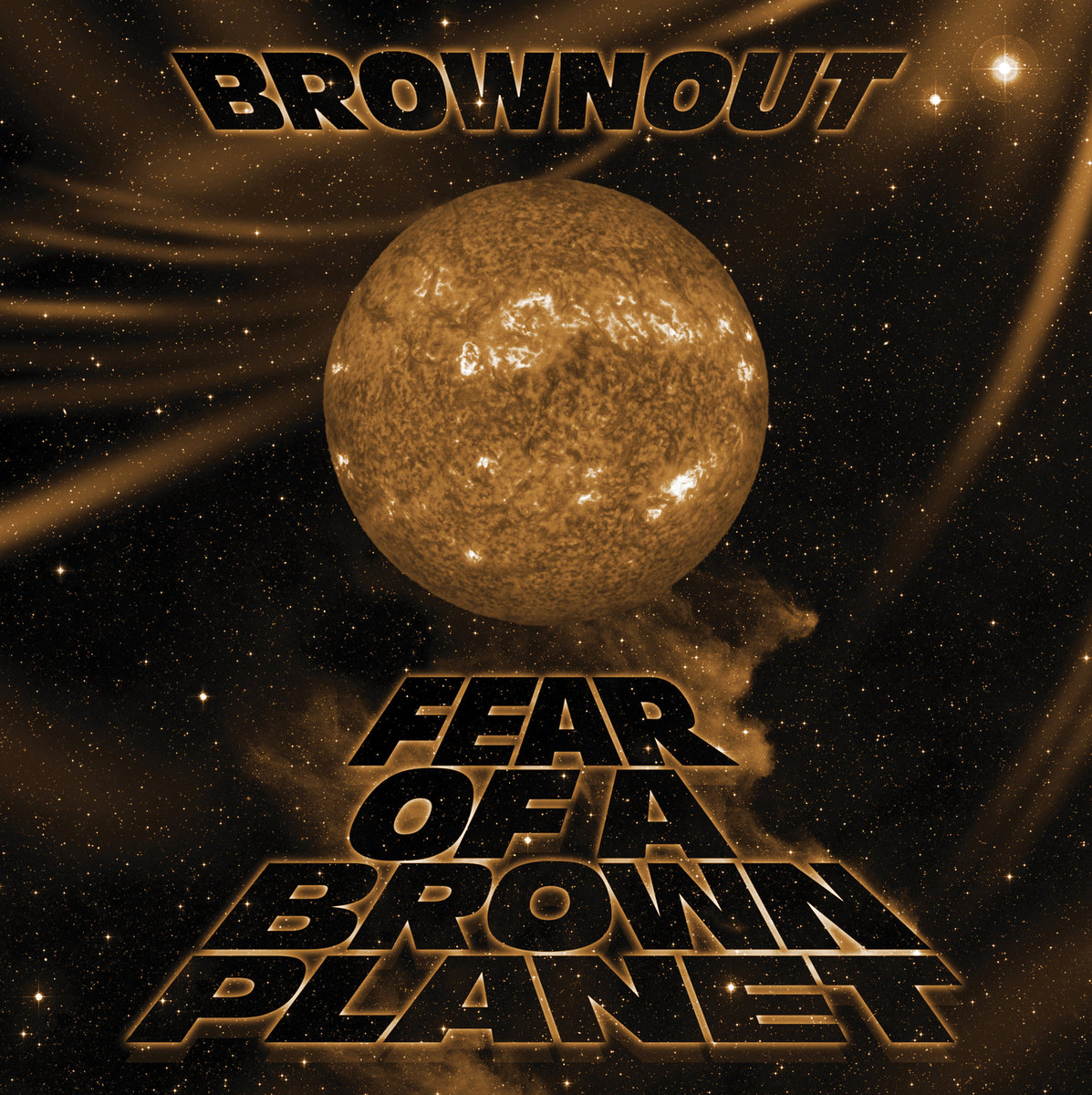 The
last time we checked in
with the Austin, TX funk outfit
Brownout
they had on another musical costume,
Brown Sabbath
. Now the band continues its musical cosplay with a tribute to
Public Enemy
titled
Fear of a Brown Planet
.
In truth, this not a direct tribute or even cover versions of Public Enemy's famous tunes, it is an amalgamation of
The Bomb Squad
(PE's Production Team) beats and more specifically the samples from which they drew from, all filtered through Brownout's vision. Some of these songs bare little resemblance to the Public Enemy tracks they are titled after, and were simply jumping off points for free flowing funk.
"Fight The Power" is a good example as the group sidesteps PE's angst, diving right back to
The JB's
"Hot Pants Road" and
James Brown
"Funky Drummer". The trumpet runs and particularly the killer drumming lay the base while off in the distance synth lines update things. "Bring the Noise" is messier but the chicken scratch guitars, vibrant countering horn lines and pump up the energy.
A standout track is "By The Time I Get To Arizona" which hits a little closer to home for the Texas crew, beginning with the aggression and wah-wah guitars the groove is thicker than molasses. The horns try to punctuate but get swamped by the mega bass bumps and beats; head bopping icky goodness. The space and airiness given to
Flava Flav's
"I Don't Wanna Be Called Yo Ni**a" is a unique tweak that works and "911 Is A Joke" is a '70's blaxploitation soundtrack cooker with layers of percussion and horn lines, allowing for the originals bass work while expanding on the sound and working wonders.
Other tracks are fun on their own but seem to be at odds with, or have no spiritual connection to the originals. "Shut'Em Down" is one example, lacking the punch but contains a nice chilled out groove with a killer fuzz tone guitar fade out that could run all night. "Don't Believe The Hype" turns from empowering anthem to cool get down jam and the most jarring track from title to result is "Welcome To The Terrordome" which transforms one of the most exhilarating/frightening hip-hop songs ever into a late night lounge trip-hop number, stripping it of all its power.
RtBE
grew up on Public Enemy and for this outfit to take inspiration from the Long Island legends (and those they sampled) is fine, but Brownout seem anxious to break out of their cover band shell too often on this release. If the songs were say "Inspired by..." as opposed to a full album of interpreted tracks things may have worked better in setting up expectations and results.
If you are not a huge PE fan but love jazzy funk this is for you, if you worship the originals this may be off putting at first, but removed from the inspirations it is still a funky offering.
_______________________________________________________________
Support
the artist
, buy
the album
, stream it
on bandcamp
or below and peep some video: