Cut Worms
Hollow Ground
***and1/2 out of *****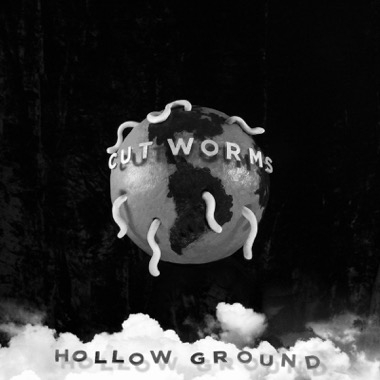 Cut Worms
is the stage name for the Brooklyn based Max Clarke and his debut record,
Hollow Ground
is an ear catching retro pop delight.
Clarke recorded all of the instruments himself in both LA and NYC and the sense of intimacy rings throughout the ten songs presented here. There are flashes of 50's sweetness, 60's jangle, 70's LA country and other culture touch points music fans will recognize as the tracks pass by.
Opening with the bright guitar work and lyrics about record machines of "How It Can Be" the listener is instantly transported by the stylized rock.The calliope sounds and doo-wop backing vocals are overly dramatic and distracting during "Coward's Confidence" but things click back into a positive light for "Don't Want To Say Good-bye" which plays up mid career
Beatles
inspiration with ease and ends up being the catchiest track on the album.
"It Won't Be Too Long" gets a
Flying Burrito Brothers
pop country groove working and that easy galloping western styled workout also settles into "Hanging Your Pictures Up to Dry" and while both are successful at what they set out to do Clarke is more in the pocket when he is dealing with the less rural numbers, like on the forlorn "Like Going Down Sideways".
"I Think I Might Be In Love" is another disk highlight, a beautiful straight ahead number that pulls in "sha-na-na" backing vocals, a rolling bass line and pedal steel guitar work. Sounding like
The Monkees
the track is a bright slice of sunshine before the more driving "Cash For Gold" pumps up the energy but doesn't sacrifice the sweet sound even while dealing with a lyrical relationship breakup.
An album like
Hollow Ground
is instantly enjoyable as the sounds recall classics of generations past, but it can also slip by without much thought like a lazy summer evening. Unfortunately, this music can really use a knockout song and there isn't one standout must hear number on the record but this being the first full length from Clarke and company it still manages to load the album with a lot of very good ones.
Reminiscent of
Dan Auerbach's
Nashville pop love record
Waiting On A Song
,
Cut Worms
have produced a record straight out of another era.
Hollow Ground
is a confident debut and makes following Max Clarke's career a requirement for any fan of pop/rock/fun music.
_________________________________________________________
Support
the artist
, buy
the album
and peep some video below: