Buckethead
Pike 65 Hold Me Forever (In memory of my mom Nancy York Carroll)
***and1/2 out of *****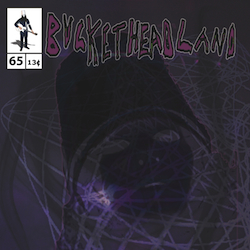 The enigma that is the tall lanky KFC chicken pail wearing guitar virtuoso becomes a bit more humanized with the newest release of his massive
Pike Series
. The title says it all as the 28 minute instrumental offering pays homage to his mother who recently passed away.
Losing a parent is heart breaking and for someone who says almost nothing regarding his personal life with words this is obviously a deeply emotional time for the guitar giant. The album though is never depressing, it is a tour-de-force in the virtuoso's patented style as he riffs all around the sonic universe. Heavily shredding in front of layers of sounds, including multiple guitars, drums and digital insertions.
The disk plays as a straight shot through different cosmic sections, things ease from mellow to exhilarating. At the 16 minute post
Buckethead's
fingers are doing frantic flips all over the guitar neck. Those progressions build and soar even dip into a killer hip hop riff as the tempo stays manically upbeat for over 10 minutes until the close of the disk; this is the mega-solo of the year.
The last time we addressed one of the Buckethead releases
was when he showed us behind the mask with a cover shot on
Pike 13
featuring his father. These emotional connections add more depth and humanity to the man's music which at times can feel robotic and sterile, often by the artists choice. Few have done better creating a myth and massive collection of work to go with it, here's hoping Brian Carroll gets through this trying time positively and continues to create insane guitar rock.
_______________________________________________________________________
Support the
artist here
, buy the
album here
and peep some video below.