We search the murky back waters of youtube to find full concerts and post them to the site weekly, come back every seven days to help us celebrate
Full Show Friday's
. These shows are of varying quality and may not be here for long so enjoy them while you can...As always, please support the artist every which way, but especially by seeing them live (if they are still playing)...
This week...
Santana!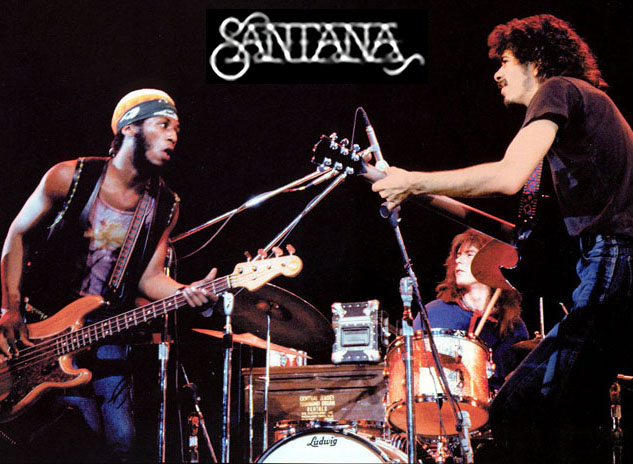 Santana always gets us thinking about live outdoor summer shows, so why not put a nice closing button on 2014's summer of Full Show Friday's?
This is the second time
we showcased Santana in this series, but we like this show a bit better. Coming from August 1970 the quality isn't perfect, but what the hell do you want, this is classic! The original lineup doing what it did better then anyone.
The group is in fine form, two of our favorite numbers are played back to back here with "Jingo" and "Soul Sacrifice", but the whole set is great. In fact I will just put the setlist and the notes from the show underneath the video and let you get right to listening:
Enjoy:
Santana
8/18/1970
Tanglewood,
Lenox, MA
SET
01 Batuka/Se A Cabo (
7:55
)
02 Black Magic Woman (
5:27
)
03 Oye Como Va (
4:30
)
04 Incident At Neshabur (
5:39
)
05 Toussaint L'Overture (
5:00
)
06 Evil Ways (
4:31
)
07 Hope You're Feeling Better (
4:37
)
08 Treat (
4:17
)
09 Savor (
2:14
)
10 Jingo (
9:15
)
11 Soul Sacrifice (
13:12
)
12 Gumbo (
4:50
)
13 Persuasion (
3:42
)
unknown low gen VHS tape (Pro-shot) with SBD audio
BAND LINEUP
Carlos Santana - guitar, vocals
Gregg Rolie - keyboards, piano, lead vocals
David Brown - bass
Michael Shrieve - drums
Jose "Chepito" Areas - percussion, conga, timbales
Mike Carabello - percussion, conga, vocals
________________________________________
­__
NOTES
"Just a year after Santana played its historic Woodstock Music & Art Fair performance, the band was fast becoming one of the biggest in the world. They were about to release their second album, Abraxas, and were riding high on the heels of three hit songs from their debut album and a new Top 10 hit, a cover of Peter Green's Fleetwood Mac's "Black Magic Woman."
A year earlier - in fact only a few days before the Woodstock Festival - Bill Graham staged the first of several concerts billed as "The Fillmore at Tanglewood."
Tanglewood is the summer home of the Boston Symphony Orchestra, and the storied venue had just begun to experiment with staging contemporary concerts on their grounds. Staging a rock concert in a classical venue had yet to be done, so of course the concept of doing so excited Graham. He brought the full-scale Fillmore East production team in, including the Joshua Light Show, and booked a great lineup. This first concert featured B.B King, Jefferson Airplane and The Who, and drew the largest crowd that Tanglewood had ever seen by far.
Buoyed by the event's success, Tanglewood and Graham agreed to stage three similar dates in 1970. The last of these is this show, when Santana headlined after The Voices of East Harlem and the legendary Miles Davis had played. This historic and beautifully recorded performance features a smoking performance by Santana in the last year of their classic lineup, before a young Neal Schon joined the band."