One of the iconic NYC live music venues,
The Bottom Line
closed in 2004 but
Paul Shaffer
will be hosting an All-Star tribute to the location right down the block from where it once stood.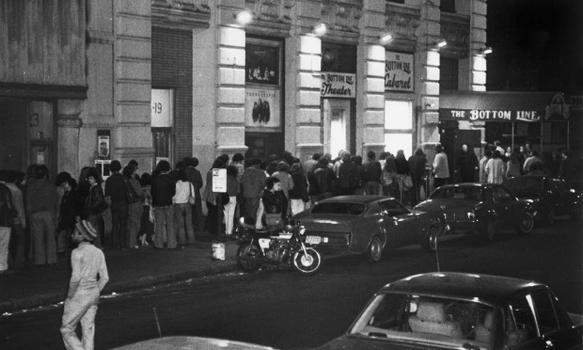 There will be a two-night tribute show (October 13 & 14th) at the NYU Schimmel Center as a host of stars come out and join the former Late Night/Late Show band leader. Our friends over at
Brooklyn Vegan
are reporting that the likes of
David Johansen and
Christine Lavin
will be there and the Schimmel website itself mentions
Darlene Love
,
Jimmy Vivino
will also be showing up to share stories and songs from the venue. Here is a snippet of the preview:
Join us for a multimedia celebration of The Bottom Line, featuring music and memories, songs and stories by a selection of artists who were regular performers at the iconic club. Host Paul Shaffer with special guests will swap stories about their favorite times on stage, off stage and backstage and perform songs that made the club a destination for fans of all music genres.
From opening night on February 12, 1974, when headliner Dr. John jammed with Stevie Wonder and Johnny Winter in front of an audience that included Mick Jagger, Carly Simon, Bette Midler and an SRO crowd of entertainment industry luminaries, The Bottom Line was destined to be a cultural touchstone and hub of the music industry. For the next 30 years The Bottom Line influenced and impacted millions of music fans, providing a rich soundtrack to their lives that reflected the changing times.
Should be a cool event and tickets
are onsale now
. There were thousands of amazing shows that were recorded at the venue, and perhaps down the road we will dedicate a month of
Full Show Friday's
to it (like we
did for CBGB's
) but for now, how about a few individual songs recorded at the location to get us in the mood?
First up,
Tower of Power
(how about those fucking hair cuts?!?!) playing "Squib Cakes" from 1989
Then we go to 1978 for
Van Morrison
and "Wavelength", recorded live at the club:
Then we hop to 1990 and check out
JJ Cale
doing "Magnolia":
And wrap it up with some some jazz in the venue as
Branford Marsalis
and company do "Yes or No" in 1989: