The War On Drugs
A Deeper Understanding
**** out of *****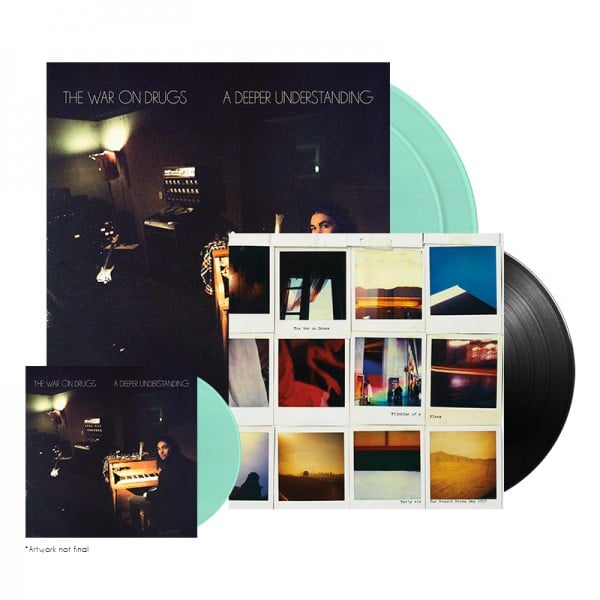 On
The War On Drugs
last release, the critically acclaimed breakthrough
Lost In The Dream
, lush AOR styled tunes were paired with distanced vocals singing mumbled paranoia filled phrases. On his Atlantic Records follow up,
A Deeper Understanding
, Adam Granduciel (the main WoD'er) has managed to improve on the bright, soaring, radio friendly sound while warming up both vocally and lyrically, constructing the best album of his bands career.
The sonic production (another result of Granduciel directly) is simply put, glorious. Songs shine out of the speakers with vibrant crisp textures as the players move through the long numbers that rarely feel weighed down by repetition. The 80's radio touchstones remain the same for the band, but they have incorporated new depths and dimensions as Granduciel's vocals take a larger role in the overall sonic production.
Opener "Up All Night" sets the tone with its stylized sound and digital beats behind questioning lyrics. Where in the past
Bruce Hornsby
and
Dire Straits
were the main references to WoD's sound, now Granduciel has incorporated
Tom Petty
and especially mid-eighties
Bob Dylan
(the good eighties Dylan that is) into the fold. "In Chains" has breakout energetic appeal while "Pain" uses riveting guitar sounds ranging from clean acoustic to fuzzy electric as it slowly rolls like a wave in the ocean with Granduciel floating on top via questioning lyrics as he "Wants to find what can't be found".
On an album chock full of picturesque songs "Strangest Thing" is a standout. Huge strums and soaring keyboard work projects a sunrise over the mountains as pianos fade in and a bubbling bass pushes things forward surrounded by Granduciel's ambivalent lyrics; a beautiful number that rewards repeated spins.
A major advancement is Granduciel projecting vocally rather than retreating into himself. Using Dylan circa
Shot of Love
and
Infidels
as an inspiration, his vocals take on a new found honesty on the ballad driven "Knocked Down" and the digital keyboard/chime laced "Holding On". The difference is, where Dylan during this era dove deep into his evolving spirituality ("Series of Dreams") or his intricate weighty tales ("Jokerman") Granduciel never gets past textured phrases describing light and dark, rivers and oceans, shadows and light, pain and happiness, etc. He isn't truly saying much of anything lyrically but the vocal confidence and easily identifiable openness (compared to past releases) certainly is a step in the right direction.
If there is a downside to
A Deeper Understanding
it is the feeling of a one trick pony as Granduciel and company have been down this path before and now flush their mid-80's AOR love to its zenith. That said, it is hard to fault the majority of songs here, even the almost twelve minute, meandering "Thinking Of A Place" contains sonic surprises.
The nineteen eighties neon revival has been everywhere the last few years, taking a slightly different approach to the decade Granduciel and company strive to get mid-eighties mass marketed rock radio back on everyone's radar.
A Deeper Understanding
nails this perfectly and should propel and already successful band to even greater heights.
___________________________________________________________________
Friends have been telling us about this band for a while now and while we have enjoyed them in the past nothing form the WoD has stuck around long with
RtBE
. That has changed. This album is damn good.