We search the murky back waters of youtube to find
full concerts
and post them to the site weekly, come back every seven days to help us celebrate
Full Show Friday's
. These shows are of varying quality and may not be here for long so enjoy them while you can...As always, please support the artist every which way, but especially by seeing them live (if they are still playing)...This week..
My Morning Jacket
!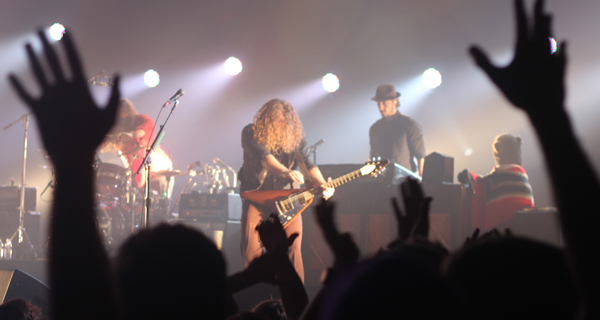 This is on the bands tour for their 2011 album
Circuital
.
We were not big fans of the disk
but we go back and fourth with this band in general.
Z
is fantastic, but other then that we take a song here and a song there and that's about all. They do have excellent taste in their covers though which really helps especially in their live sets. Can't front on the greatness of "One Big Holiday" though...killer tune.
This show is Pro Shot with Pro Sound from the Village Studios in LA so enjoy:
My Morning Jacket
Village Studios
Los Angeles, CA
June 21, 2011
Victory Dance
Circuital
Day Is Coming
Wonderful (The Way I Feel)
Outta My System
Holdin On To Black Metal
First Light
You Wanna Freak Out
Slow Slow Tune
Movin Away
Wordless Chorus
Smokin From Shootin
Touch Me I'm Going To Scream Part 2
One Big Holiday
I Will Sing You Songs