Bombino
Azel
**** out of *****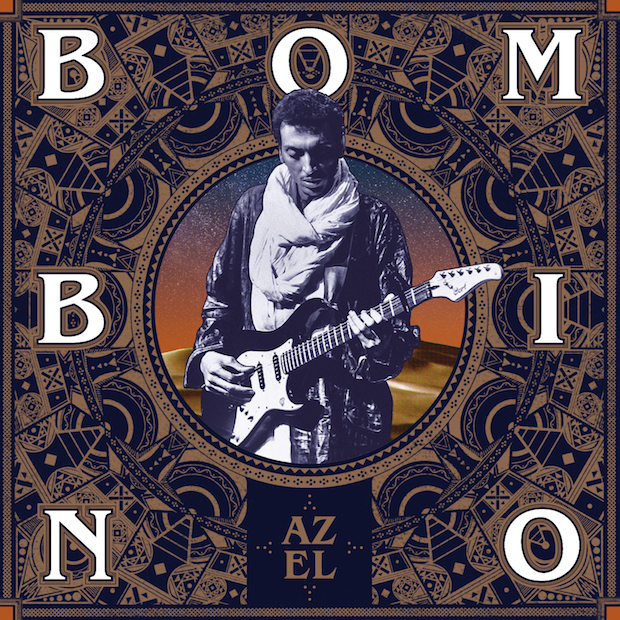 Bombino
has been on the western music scene for some time now (
RtBE
caught
him and his band back in 2011
) and his 3rd solo album
Azel
finds the players collectively happier and brighter than they have been previously.
Working with Dave Longstreth from
The Dirty Projectors
the Tuareg musicians went to upstate New York and returned with looser more flowing work then their
fuzzed up blues predecessor Nomad
which was produced by
Dan Auerbach
. Bombino himself was more at ease with the open approach and calls this record a "Tuareggae" disc where he incorporates Caribbean rhythms with his languid playing, a new twist and trick for him.
The songs here all go long (most well past four and a half minutes) as loops and riffs swirl around like desert night breezes. The opener "Akhar Zaman (This Moment)" has a message of informing Tuareg people about losing their culture, but to these ears the playing feels liberated, upbeat and clean. "Inar (If You Know The Degree Of My Love For You)" bases itself around Bombinos acoustic fret work that scurries all over while "Tamiditine Tarhanam (My Love, I Tell You)" is a great excursion based all around the drums with the band locked in from the jump.
The intricate guitar work on tracks like "Naqqim Dagh Timshar (We Are Left In This Abandonded Place)" and "Igmayagh Dum (My Lover)" is blinding and it is easy to see where the lofty comparisons come from regarding Bombinos style. "Timtar (Memories)" plays strong with his newest Tuareggae motif as it incorporates clear reggae and female vocals from Mama "Mahassa" Walet Amoumene.
"Iyat Ninhay/Jaguar (A Great Desert I Saw)" combines all of Bombino's past and current loves as it amps up the rock riffs, while skewering the tempo and still managing to find an easy air thanks to a repetitive beat and groove; a real winner and an excellent summation of his career to this point.
While Bombinos lyrics directly address issues in his world, those not speaking the language will still enjoy this as a whole
. Azel
has once again raised the bar for
Bombino
and players whose engaging music and style will speak to everyone.
_________________________________________________________________
This one almost got 4 and a half up there it is that good. We have dug Bombino ever since our friend Rob from NOLA turned us on to him, and this is probably his best work yet.
Buy
the album
, stream it for a
limited time on NPR
and peep some video: