Adam's House Cat
Town Burned Down
***and1/2 out of *****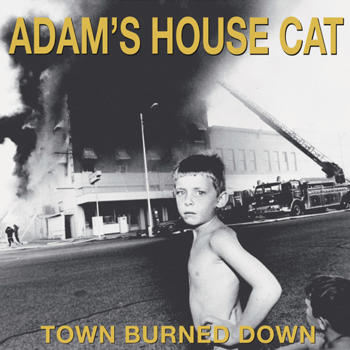 Adam's House Cat
was the first pairing of Patterson Hood and Mike Cooley before the pair went on to larger success with the still rocking
Drive-By Truckers
. The duo, along with drummer Chuck Tremblay and bassist John Cahoon wrote these scrappy songs, a few of which fans of the Truckers will instantly recognize as Hood and Cooley continue to enjoy them, playing to them to this day.
Town Burned Down
starts with one of those as "Lookout Mountain" kicks off the retro looking record. The track was recorded by the Truckers on their amazing
The Dirty South
album and has been a highlight of live shows with it's crunching riffs. This version along with "Runaway Train" (another DBT live staple) are both a bit faster and thinner then when the group tackle things currently on the stage, but both will be incredibly familiar to fans and are solid intro tracks for those new to the party.
There are flashes of
Bruce Springsteen
and
Tom Petty
as well as other classic rock touchstones, but it is clear that Hood was finding his own unique lyrical voice. "Down On Me" is predominately an acoustic number with a weeping electric slide guitar accentuating the vibe, the foundation of a unique lyricist and songwriter is clearly present.
"6 O'Clock Train" finds Hood and company chaffing against the bible belt morality and small town conformity which leads into "Buttholeville" which expands on that vibe and is another track DBT continues to be proud of, playing it onstage often. There are a few odd musical choices such as the
Bo Diddley
beat of "Child Abuse" which doesn't match with the direct lyrics of it's title subject or the bratty "Love Really Sucks" lyrics around some excellent guitar soloing.
However, unearthed numbers like the life keeps kicking your ass track "Kiss My Baby" and the heartbroken beyond his years "Shot Rang Out" show exactly where Hood and Cooley were heading as both themes would be visited multiple times throughout DBT's run. "Long Time Ago" is a bass led story song which finds Hood dipping into his raconteur roll while closer "Cemeteries" adds a touch of ukulele closing excellently on a big cinematic note.
The recording and presentation of
Town Burned Down
changes the full impact of the album as the original tapes were discovered by producer David Barbe, but everything was re-mastered and Hood went back and re recorded all of his vocals this year. In doing so, the late 80's feel has been reduced greatly and the true sound of this record is lost (originally to a
tornado
and now to re-recording) and in it's place is a professional offering from a wiser (in studio and recording ways at least) outfit, not the young southern punks who originally crafted the songs.
That disconnect from time and place is one that keeps this from being a true document of the young artists who would go one to anchor one of the best rock bands of the last 25+ years, but taken on it's own
Town Burned Down
is still an intriguing listen, plus a great window into the foundation of Hood's lyrics and the Truckers roots.
____________________________________________________
Support
the band
, buy
the record
and peep some video below: