Our Native Daughters
Songs Of Our Native Daughters
**** out of *****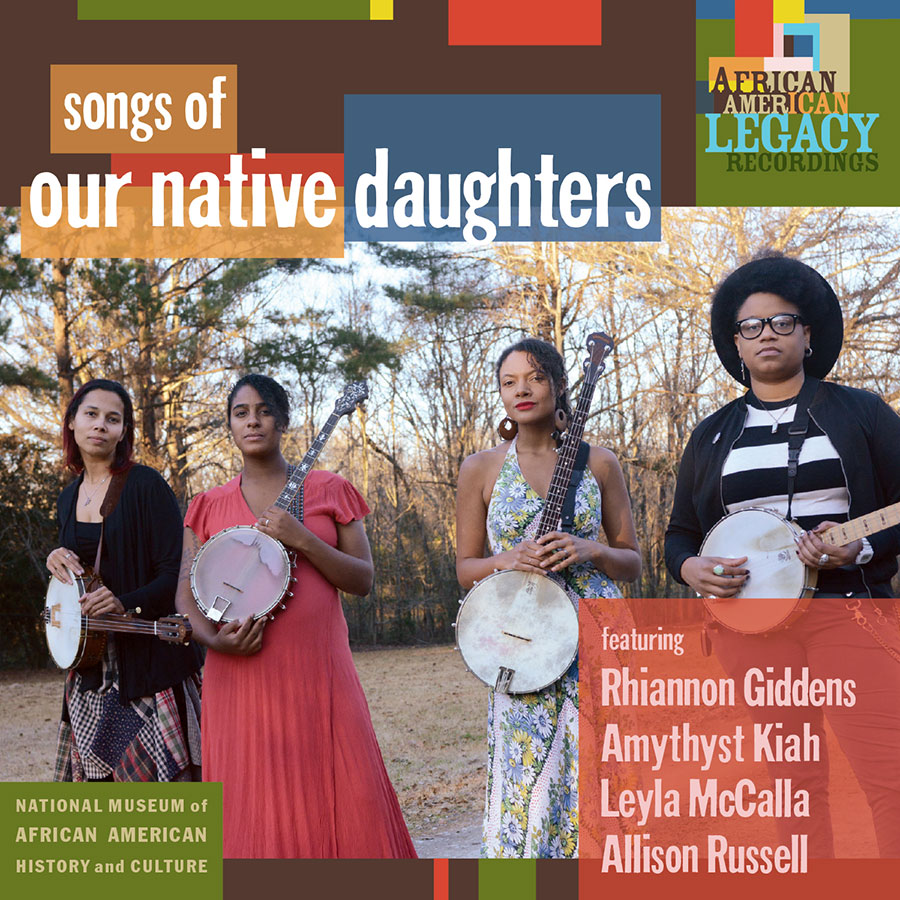 The new outfit
Our Native Daughters
is a collection of four banjo playing women of color who are doing more then just picking on their first release
Songs Of Our Native Daughters,
they are singing of a spiritual journey, our history as a country, the struggles of their ancestors and how it effects people of today.
The four artists, Rhiannon Giddens, Amythyst Kiah, Allison Russell and Leyla McCalla came together after Giddens (Carolina Chocolate Drops) invited the other three to her co-producer Dirk Powell's Louisiana Bayou Studio. The album, released by Smithsonian Folkways has deep roots, in Giddens own words:
"There is surely racism in this country — it's baked into our oldest institutions — just as there is sexism, millennia old. At the intersection of the two stands the African American woman. Used, abused, ignored and scorned, she has in the face of these things been unbelievably brave, groundbreaking and insistent. Black women have historically had the most to lose, and have therefore been the fiercest fighters for justice — in large, public ways that are only beginning to be highlighted, and in countless domestic ways that will most likely never be acknowledged."
The roots run deep and the group are not afraid to dig in, opening with the statement making "Black Myself". This is the most rocking the outfit gets and while the lyrical message is strong the four players are more effective when they go the acoustic route as things immediately improve on the following "Moon Meets the Sun" which juxtaposes proudly defiant lyrics with great singing and a lighter musical feeling showcasing more picking; an album highlight.
Other immensely affecting numbers follow, particularly when things are scaled totally back. The foursome strip instrumentation down to hand claps and and minimal tom drum beats to recount a rape, murder and hanging in the sung and call response of "Mama's Cryin' Long" with cold realism around the brutal events while "Barbados" finds Giddens reciting poetry about slavery dipping into a humming soulful evocation before ending by turning the mirror of modern slavery on the listener (and performer) with cutting coolness.
"Quesheba, Quesheba" is Russell's showcase with an ominous violin leading the way before she partners with Giddens for the closing reminder "You're Not Alone". The "Slave Driver" cover is fairly straight ahead but in this context and the harmony of the four singers it takes on added depth while "Polly Ann's Hammer" reinterprets the John Henry myth and folk song from a powerful mothers perspective giving credit to the female workers.
An old minstrel song "Better Git Yer Learnin'" was found by Giddens and updated lyrically and the tune is plucked and supported by a shaker and fantastic singing before a fiddle joins for the finale while the back porch easy acoustic blue grass of "I Knew I Could I Fly" finds McCalla using a warm folk number to explore the life of
Etta Baker
.
Spanish and Cajun flair drip into McCalla's "Lavi Difisil" before the groove and march get amplified for Kiah and Giddens "Blood and Bones" slow burner that focuses on slaves from Ghana caring for children and getting thrown away afterwards. The more upbeat "Music and Joy" breaks the growing tension with a playful work out which feels free and moves with grace.
If you think music is suppose to appease the masses and fill the charts with glittering ditties forgotten about before next's weeks charts, then feel free to skip this album....actually on second thought, listen to this album if you feel that way. You will realize music is a life blood, a history, a powerful tool for change, surviving, defining, learning, growing, protesting, rejoicing and the human spirit.
Songs Of Our Native Daughters
is a great release in any genre.
______________________________________________
Support
the artist
, buy
the album
, peep some video below: