RtBE
loves listening to new music and prides itself on keeping tabs on up and coming artists but in 2019 we are also going to have a monthly spotlight on legendary artists who we really love. We are calling this series
The Masters
. It will focus on the best albums, live records, transcendent shows and other odd ways we appreciate the artists and their contribution to music, culture and our formation.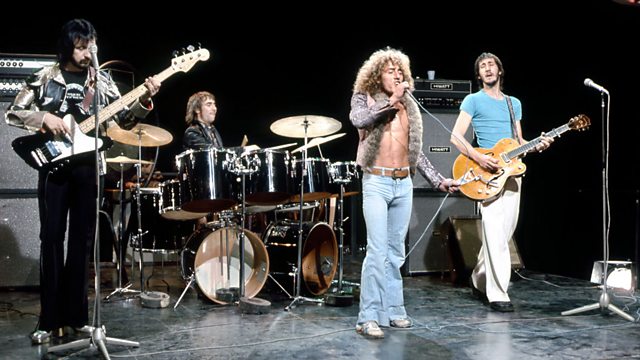 For September
The Masters
focuses on
The Who
.
A band that was a force of nature. In their prime The Who were a must catch live act. From the magical timing of the sun coming up at Woodstock as if it was a light show to the story about Monterrey Pop and the rift between
Jimi Hendrix
and The Who which is
a classic...
Townshend says "I've heard Roger talk about it as a jam session, but it wasn't a jam session. It was just Jimi on a chair playing at me. Playing at me like 'Don't f—k with me, you little sh-t.'"
The musical quarrel came down to Townshend's insecurity over The Who playing after Jimi Hendrix at Monterey, a gig that he considered to be a "critical concert." Attempting to negotiate with Jimi didn't go well, as Hendrix said "that's not what you really mean. What you really mean is that you don't want me to go first. You want to be first up there with the guitar smashing," to which Townshend replied "Jimi, I swear, that's not what it's about."
In the end, the discussion cooled down and Hendrix suggested a coin toss to determine who would go first and The Who came out on the winning side of that toss.

Watching Hendrix's performance later from the crowd with Mama Cass, she told Townshend, "he's stealing your act" and Townshend said "no, he's not stealing my act – he's doing my act." Explaining further, Townshend says "for me, it was an act and for him, it was something else. It was an extension of what he was doing."
They have memorable live moments, both good and bad and as a band continue to tour with two of the original members. While their hey day is clearly behind them, their recent past gets some love on our live albums list below.
RtBE
was not alive to catch the group as a four piece but
we have caught them
a few times as well as
variations of their work
and love every minute of it.
So let's get to their top five live albums below. As a reminder this list is meant to start conversations, not end them....
It is interesting that a band that defined a live experience and the live rock album (one coming higher on our list) doesn't have a lot of live albums to choose from. Maybe because they think they nailed it the first time, but the truth is The Who have released lots of live records, but most are not memorable in the slightest. Remember
Who's Last
? Better off if you didn't,
RtBE
hadn't and going back to listen to it proves The Who should forget it as well.
The reason this recent archival release gets the nod is because of the capturing of the raw band firing on all cylinders even though they are not yet locked into their early 70's set lists. This is a bit of transition time for the Who between Mod show piece band and huge arena rockers.
Tracks like the ripping
Eddie Cochran
numbers "Shaking All Over" "My Way" and "Summertime Blues" along with originals "I Can't Explain", "Happy Jack" and
RtBE
personal favorite "A Quick One While He's Away" are dynamite. While the 35+ minute "My Generation" may be a bit much it has it's moments and puts this blast of rock and roll on our list.
#4
Quadrophenia Live in London
- 2013
As already stated
Quadrophenia
is our favorite from this band (and anyone else) and
RtBE
managed to catch this tour live by the Sea and Sand in New Jersey. It was an amazing experience that wasn't a perfect show by any stretch, but one we will never forget. It is nice to have this keepsake from the tour, this recorded night was the Tour closer back in England as the band played Wembley.
It is the full album, plus a few fan favorites and non favorites ("Tea and Theater" anyone?) and the band, crudely to these ears, goes back to the well and uses an Entwistle bassline from the past on "5:15" as well as Keith Moon's vocals for "Bell Boy". While not the choices we would make, it is still a great performance with Pino Palladino and Scott Devours filling for the deceased members and other added musicians helping flush out the arraignments. Since the original tour for this album was not a success, this is a decent substitute.
#3
Live At The Royal Albert Hall
- 2003
This one is much better than it probably looks on paper. The last live release with Entwistle as a band member the group had a host of guests on stage and played their balls off as they dove into a ton of different songs throughout their career. Deep cuts and old warhorses sit easily next to each other as the core three with Zack Starkey on drums and John "Rabbit" Bundrick on keys etc are in top form.
The guests do a good job of mixing up vocals guitars and violins. The highlight is longtime super fan
Eddie Vedder
getting to croon with his heroes as he joins for "Getting in Tune", "Let's See Action", and "See Me, Feel Me/Listening to You" and a gorgeous version of "I'm One". While not an all-time great record, it is a nice addition to the Who's live repertoire and well played/unique enough to return to for extra visits.
The first live Who record
RtBE
ever bought was this one. At the time, fairly new to the group I didn't know of the top record on this lists allure, but found this one on sale somewhere and was blown away. Truth is if you have the extended version of the number one record on this list, this album is not really needed, very little is expanded upon, but as a collection of playing it is dynamite.
The Who were one of the best live bands in history at this point, so any show from this era is worth hearing, even if it is a bit of a money grab by the band as they continue to release "remastered" and extended cuts of albums. Either which way the business might stink, but it brings amazing music to light which is a trade off
RtBE
will take.
#1
Live At Leeds
-1970
One of the best live rock records ever, The Who's
Live at Leeds
has had many incarnations and all are awesome. The original release was six songs of rock and roll adventure as the group played 3 covers and jammed out two originals "Magic Bus" and "My Generation". Then the group released more songs in 1995, then the full show in 2001 complete with their live rendition of
Tommy
. They also released a 40th anniversary collection of that show along with the next night at Hull, it can never be said this band didn't try to ring every penny out of their music, but when it sounds this hot it is worth it.
RtBE
normally rocks the 2001 edition as the full show delivers the goods, this is also our preferred way to hear
Tommy
as it is heavy, a bit faster and some parts are trimmed. Any version though finds the band on, and rocking out with in their Maximum R&B style.