With live music on lock down (like everything else currently in New York City) live streams and old concerts have become essential for live music junkies like
RtBE
. While this current state of pandemic is in order we will highlight various shows/streams/virtual events for your viewing and listening pleasure and you can always check out or weekly
Full Show Friday
series for concerts from the past.
Today we will highlight:
WWOZ New Orleans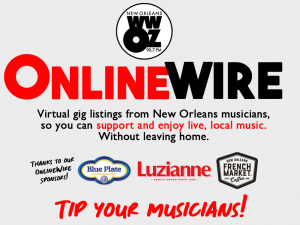 The guardians of the groove
WWOZ
is the best radio station on the planet. They are providing daily updates for live streams from amazing local artists and you can donate to help support that cities robust live music scene. New Orleans is literally a second home to
RtBE
so we want to support the unique town every way we can.
You can go to their
daily updates page
for live shows each day. Last Saturday we caught
Kermit Ruffins
at the empty Mother In Law Lounge and hope to support him against this weekend, but there are loads of
RtBE
favorites including
Big Sam
,
Samantha Fish
,
John Cleary
and others doing live sets which you can support by watching and donating.
To get in the mood here are some live tunes from big easy artists.