Robert Cray Band
That's What I Heard
**** out of *****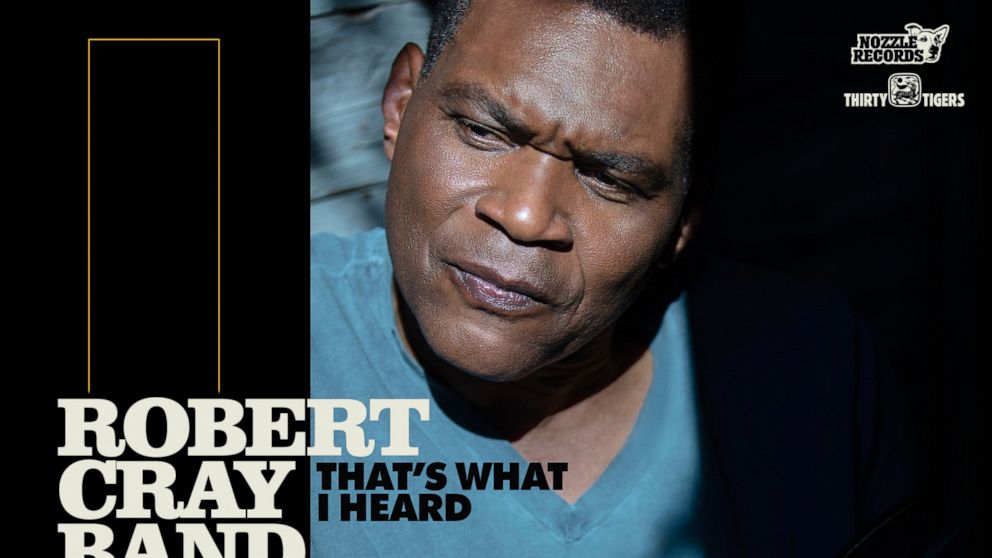 Back in the mid 80's
Robert Cray
emerged as one of the best blues artists of the era with smooth/cutting playing, true singing, rich band leading and excellent song writing on
Strong Persuader
(which just missed our
Masters Best of the Blues albums list
) among other releases. He has been solid since then, if not changing the world, with his heady renditions of the blues and now comes
That's What I Heard
, a wide ranging album that allows Cray to display his talents with gusto.
Where a record like
Strong Persuader
Cray found the cool route and stuck to it,
That's What I Heard
successfully
dabbles in various genres and styles with the help of producer
Steve Jordan
who gets the most out of Cray and his band (while also drumming on most tracks). The album has four originals from Cray which all stand toe to toe with the covers from legends of blues and soul.
Starting of with one of the few negatives, Cray's voice can project with the best ever in the genre (
BB King
,
Bobby Blue Bland
etc) but on a track like "You're The One" which channels
Sam Cooke's
energy and vibe, Cray sounds disengaged letting the gorgeous backing music down. However, outside of that vocal performance there is very little to be critical of on
That's What I Heard
.
The opener, written by Cray, sets the high water mark as "Anything You Want" pairs Cray's upbeat clean style with some dirty blues before things take a decidedly gospel turn for "Burying Ground" as Cray delivers dynamite vocals around tambourine, choir support, organ and spiritual sounds. The group falls into a deep groove for the jilted lover drama of the elongated "This Man" about a third wheel who keeps popping up (or is our current political situation?) before the scorching guitar, piano and perfect use of the phrase "diddly squat" in the appropriately named "Hot".
The band locks in for a complete soul effort on "Promises You Can't Keep", injecting soothing horns to the torch song blues around Cray's passionate vocals while "You Can't Make Me Change" fits like an old glove with it's sashaying blues and Cray's direct singing. The roadhouse stomping and electric feedback fuzz of
Don Gardner's
"My Baby Like's To Boogaloo" is a jolt of energy threatening to career off the tracks as the full band let their hair down and get after it in exhilarating fashion.
The swelling pain in "A Little Less Lonely" uses B3, and climbing drums to match Cray's vocals as things boil over, before the record wraps up with a ripping gut bucket funky jam "Do It" which we get to hear already in progress as if Cray and his band were doing it proper like this all the time they weren't in our ears.
Cray proves he is still giving it his all as
That's What I Heard
is a tour-de-force of the blues and beyond.
_____________________________________________
Support
the artists
, buy
the album
, peep some video below: