R. Scully
Eat Your Toes!!! Songs For All Ages
***and1/2 out of *****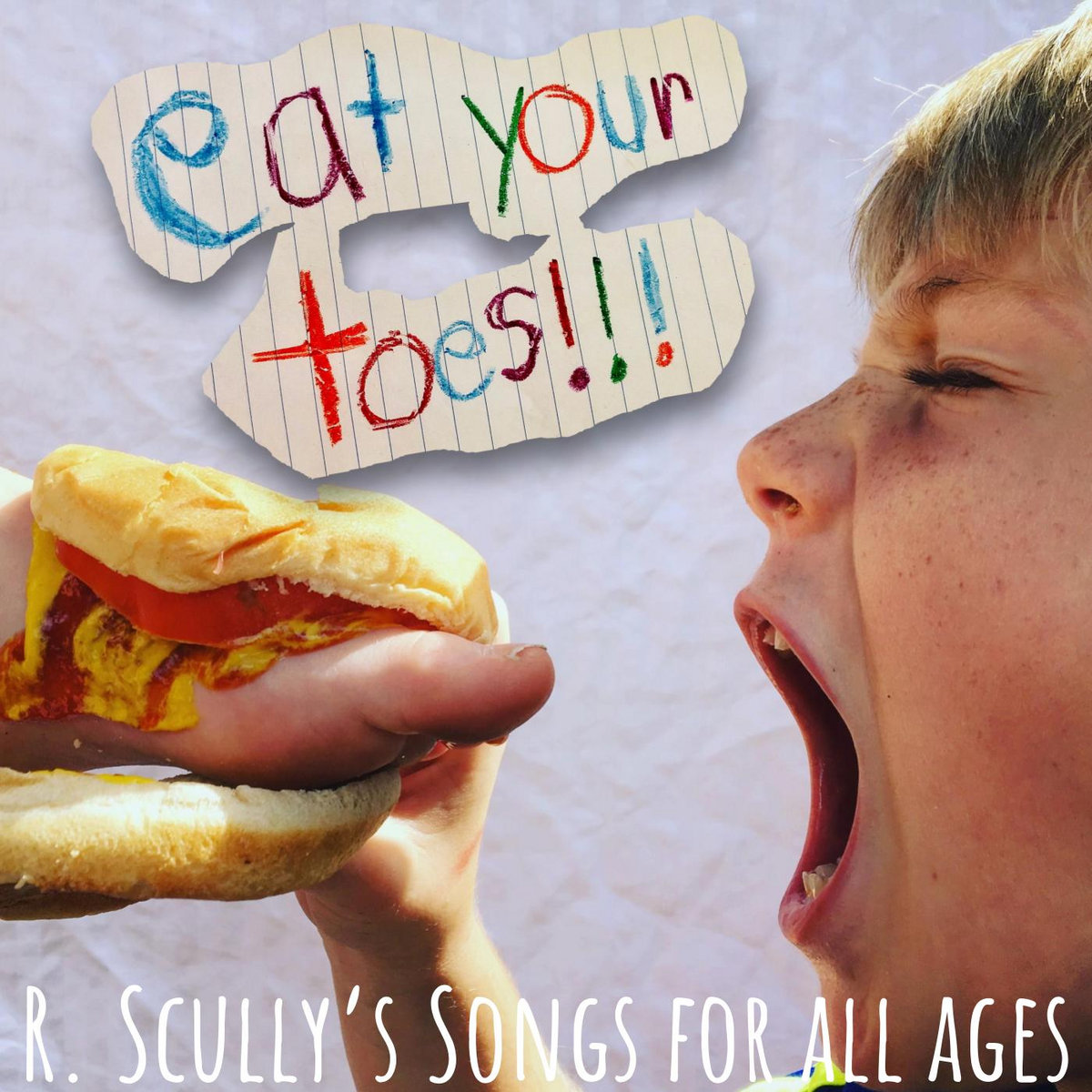 Ryan Scully
has been a staple on the New Orleans music scene for over 25 years, primarily as a member of the raucous
Morning 40 Federation
and leader of
The Rough Seven
. His most recent project started after the birth of his three children as he crafted songs for them to enjoy. Spinning things forward he made his goofy tunes for all ages, bringing in big brassy horns, dance beats, punk banging, country waltzes and all sets of silly sounds that children of all ages can shake their tail feather and sing along with.
Most of the tunes are a simple turn of phrase repeated with various levels of accompaniment in different genres around Scully's distinct vocals. Opener "See Me Dance" asks the title question around the dance rock beats, but "Shades and PJ's" goes all out funk excursion with hip hop embellishments when it comes to night time/bright time. The silly disco thumping of "Eat Your Toes" goes right for kids spastic hearts as does the go lay down repetition of "Nappy Wappy" and Scully's sweet ditty for his daughter titled "Ceci Darlin'".
The band supporting are all veterans of New Orleans late night scene with Alex McMurray - guitar, Washboard Chaz, Jason Jurzak - Tuba, Diako Diakoff - piano, Eric Belletto - trumpet, Mac McCann - trombone, Steve Calandra - cowbell, Rick Huckill - trombone, Sneaky Pete - mandolin, mandicello, and banjo. The stand out direct numbers are the brass marching of "I Want Some Water", the poo-poo punk of "Rise'em Up" and the country waltzing of "Wybonsey (Wake Up)" all of which wiggle into ears and never leave.
The piano rambling, circus sounding "Love In My Heart" is custom made for these quarantine times while the record ends with two songs that stretch out Scully's style to story-telling folk songs as "T-Roy's Pirogue" tells a lost dogs shaggy tale and "One Foot" recalls the positivity of a
Woody Guthrie
tune written Surf Avenue for his children.
While children are clearly at the forefront of
Eat Your Toes!!!
creation, these tunes would not sound out of place slipped into a Morning 40 Federation set, or even taken on by bands like
Ween
or
They Might Be Giants
. This style has always been present in a part of Scully's songwriting and this album just pushes it to the forefront so that fans who are parents can sing with their children and hopefully be inspired to create their own silly songs together.
_________________________________________________
Support
the artist
, buy
the album
, stream it
on bandcamp
or below: