'68
Give One Take One
** out of *****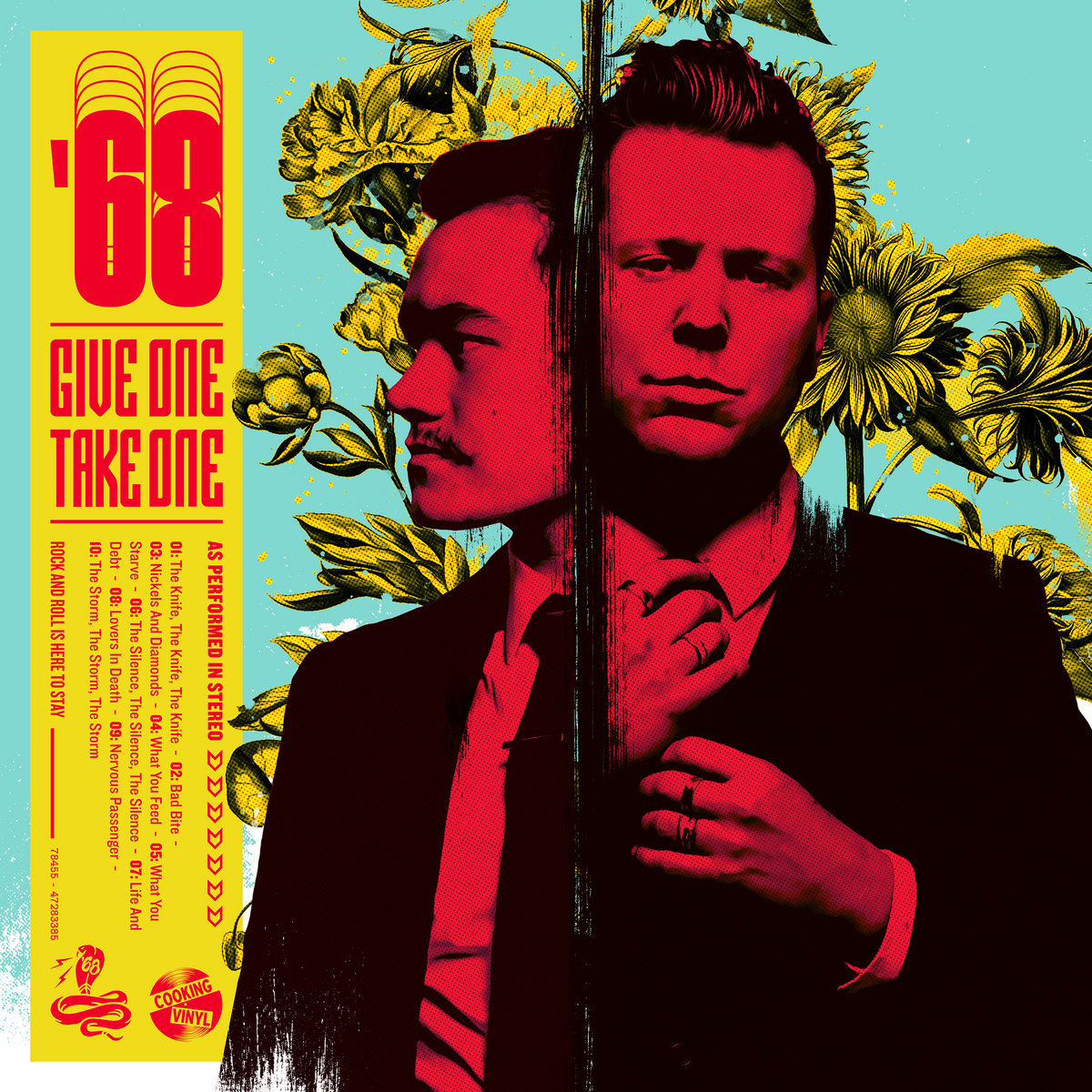 Give One Take One finds the Atlanta based band '68 delivering punk influenced rock and roll with an aim for higher ambitions than touring vans and dive bars. While most music in this vein could be described as garage rock, '68 clearly push past that into refined studios, and theatrical offerings by bringing in producer Nick Raskulinecz along with a host of studio tricks/gimmicks to grab commercials, soundtracks and as wide of an appeal any way they can.
'68 are a duo of Josh Scogin and drummer Nikko Yamada whose slamming sound tugs on visceral rock and roll but almost all of these songs feel lightweight before the sonic experiments flair out. For example, "Bad Bite" takes a Nirvana Bleach era riff, shoehorning it into a groovy Jack White ramble, then puts in stripped down hand claps before a bizarre cut short ending. Two of these things could work, three seems like too much and that kitchen sink approach on every song weighs down the overall effort.
Songs have guts of solid workings such as the blues influenced "Life and Debt", the crowd ready opener "The Knife The Knife The Knife" and "Hard Diamonds" which contains the best drumming from Yamada on the album, yet each of these adds bells and whistles which simple aren't needed such as backward tracking tape/editing. The straight ahead and brief "The Silence The Silence The Silence" finds Scogin shouting out his pain around a direct riff and slapped drums, yet even here the band injects laser like effects, and backwards looping. Same goes for the hardcore screech of "Lovers in Death" which cops Nirvana again and injects pace around twists and turns.
The album has moments that remind of some past favorites (
Metz
, Nirvana clearly, multiple
QOTSA
moments and
Graveyard Lovers
excellent Dreamers
comes to mind) but overall there is just to much messing with what isn't broken. Honest writing, driving guitar driven rock and roll doesn't need the studio wizardry or tricks and metal influences, elongated closer "The Storm The Storm The Storm" goes a step beyond and is a misplaced metal ballad.
In the case of '68's Give One Take One, less would be more.
_______________________________