Altın Gün's
Aşk
*** out of *****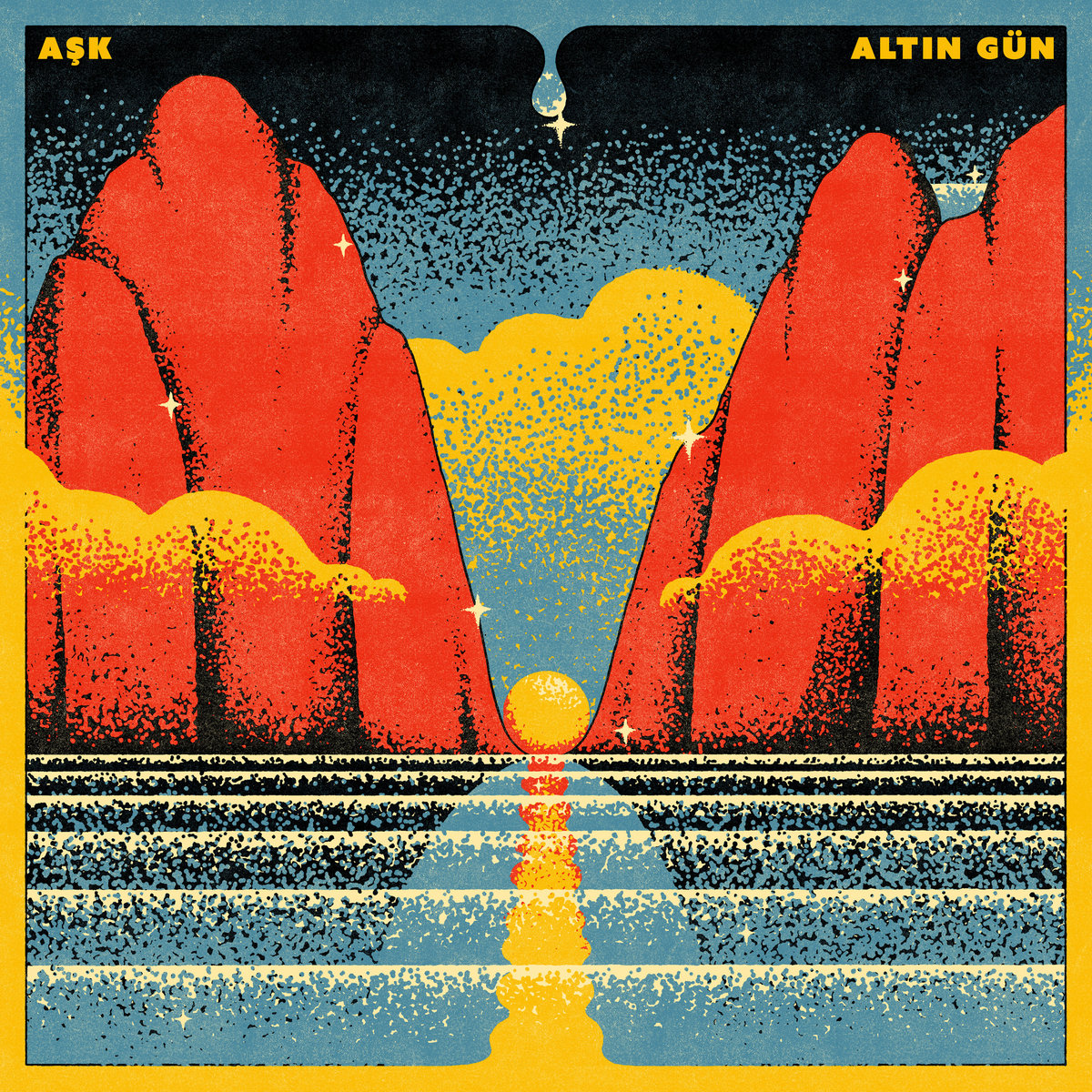 During the pandemic
Altın Gün
where forced to record remotely with the bands members scattered all around Europe. The resulting
Yol released in 2021
was a sleek, synth drenched, dance-leaning pop effort. Now with restrictions removed and the band all present
Aşk
, was recorded almost like a live album on vintage equipment, returning more to their roots with a 70's Anatolian folk-rock inspired sound
Starting with the pulsing "Badi Sabah Olmadan" the ominous textures come out as the band, Merve Daşdemir – vocals and keyboards Erdinç Ecevit – vocals, saz and keyboards Thijs Elzinga – guitar Jasper Verhulst – bass Daniel Smienk – drums Chris Bruining - percussion, state their intentions. All ten tracks are new readings of traditional Turkish folk tunes as the band digs into their countries sound and heritage, interpreting it for a new generation.
The grooving "Su Sızıyor" has light touches of reggae while the hard funk rock of "Çıt Çıt Çedene" lays down some chunky lines and swirls gloriously with electro keys and head bopping swagger. The band hasn't completely left their recent synth past behind as "Dere Geliyor" uses the layers of electro keys to revamp the Turkish folk tune.
The album highlight is "Leylim Ley" which warbles with distortion as snaking guitars and synths, lay down layers of sounds. The tempo and tone shifts throughout, keeping the listener on edge in winning fashion.
Less successful is the overloaded "Canım Oy" which tries to cram in to many musical ideas during the short tracks run time and "Kalk Gidelim" goes the opposite direction by sticking around to long without delivering any real punch. Album closer "Doktor Civanım" harkens back to Yol with mixed results as the icy electro dance party is a cool change of pace but not as funky, or dance floor inspiring as other outings presented here.
Better is the other album highlight, the spaghetti western tinged, deep bass bombing, hand drum laden, "Rakıya Su Katamam" which pumps up the energy and overarching sense of doom around the corner with almost head banging power.
Perhaps some of the lively energy and slick dance vibe has been lost as the band moves back to their roots, but the groovy, funky, rolling, Turkish folk-rock sounds keep flowing in a positive manner throughout
Altın Gün's
Aşk.
____________________