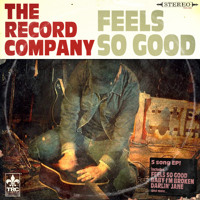 The Record Company
Feels So Good
*** out of *****
Rollicking bluesy rock flows out of
The Record Company
on their
Feels So Good
EP, the second release for the band. A deep blues feel mixes with a polished vibe as the LA trio beats out voodoo in confident fashion.
Chris Vos (Vocals/Guitar), Alex Stiff (Bass/Vocals) and Marc Cazorla (Drums/Vocals) hit all the classic blues touchstones (lonely dogs, dusty rave ups and hard days) but with the production there is a sheen in places where extra grime may tend to normally reside. This has helped the band get their tunes in various shows and movies helping expand crossover appeal much in the vein of
Robert Randolph
or
Gary Clark Jr
(but without the soloing).
"Feels So Good" Starts thing and works with powerful strides, while "Roll the Bones" bumps the low-end. "Baby, I'm Broken" turns up the distortion and harmonica adding a fuzzy tone to things while "Hard Day Coming Down" burns with an impressive acoustic guitar and hand claps. "Darlin' Jane" ends the EP on "Willie and The Hand Jive" tip as the band puts together gang choruses and funky bass line.
The band has a style that reminds of UK's The Heavy, but with a greater roots feeling, just don't be surprised if the opener "Feels So Good" is everywhere much like "How You Like Me Know?" by this time next year. The title track alone is worth a listen but this band seems to be cooking all over with
Feels So Good
, get in on the action.
_________________________________________________________________
Pretty solid blues rawk here. Focused more on the songs then anything else, they are solid if not re-writing the blues, but then again no one needs to do that.
Support
the Band Here
and Peep some Video below:
"Feels So Good"