Branford Marsalis Quartet
The Secret Between The Shadow And The Soul
**** out of *****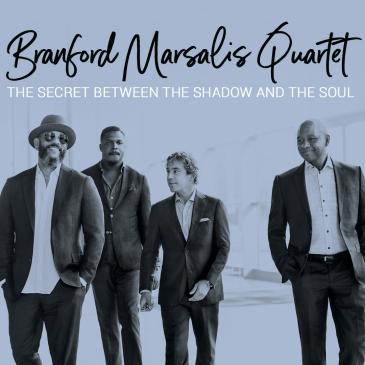 Banford Marsalis
has been crafting excellent acoustic jazz for decades now and his newest release continues this trend.
The Secret Between The Shadow And The Soul
tackles originals and covers with a relaxed cool, even when things really get out there.
The quartet, pianist Joey Calderazzo, bassist Eric Revis, and drummer Justin Faulkner have an easy going musical understanding and while Marsalis may be the marquee name, this is clearly a collective as each artist is vital to the songs.
The most adventurous number kicks off the record as the band tackles the Revis written tune "Dance of the Evil Toys". The piano and bass set the tone before Branford's horn enters, the tempo picks up and chaos pokes it's head in and out as the track rumbles forward. Calderazzo's piano solo towards the finale is the highlight of the opening effort and the veteran piano player is truly the standout MVP of this record, writing two numbers and playing brightly on all of them.
His smooth piano work is showcased during both his original ballads "Conversation Among The Ruins" and the mellow mood piece "Cianna" which displays a Spanish flair. A take on Eric Hill's "Snake Hip Waltz" is yet another successful outing as again Calderazzo shines along with the vibrating bass work of Revis. Marsalis and Faulkner come alive during the pumping "Nilaste" which is a whirlwind of sound as yet again Calderazzo's piano puts a pin in things.
The Marsalis led blues infused "Life Filtering from the Water Flowers" is a somber piece with some direct playing from the saxophone legend but the album closing rendition of
Keith Jarrett's
"The Windup" finds the band having the most fun out of any of the tracks here.
Starting with lively piano work the drums kick up as bebop horn fills flow effortlessly. The band navigates sharp angles, musical changes and groovy passages as it spreads its wings and really get after it to close this excellent record.
Over the hour of exciting music presented on
The Secret Between The Shadow And The Soul
the
Branford Marsalis Quartet
prove they are game for anything and experts in the smooth, rough and all textures in-between.
(
This album also made Glide Magazine's Top 20 Jazz Releases of 2019
)
________________________________________
Support
the band
, buy
the album
and peep some video below: