Actually no we don't...but since it is fun to predict, lets look into the crystal ball and guess who
will be
and who
should be
playing.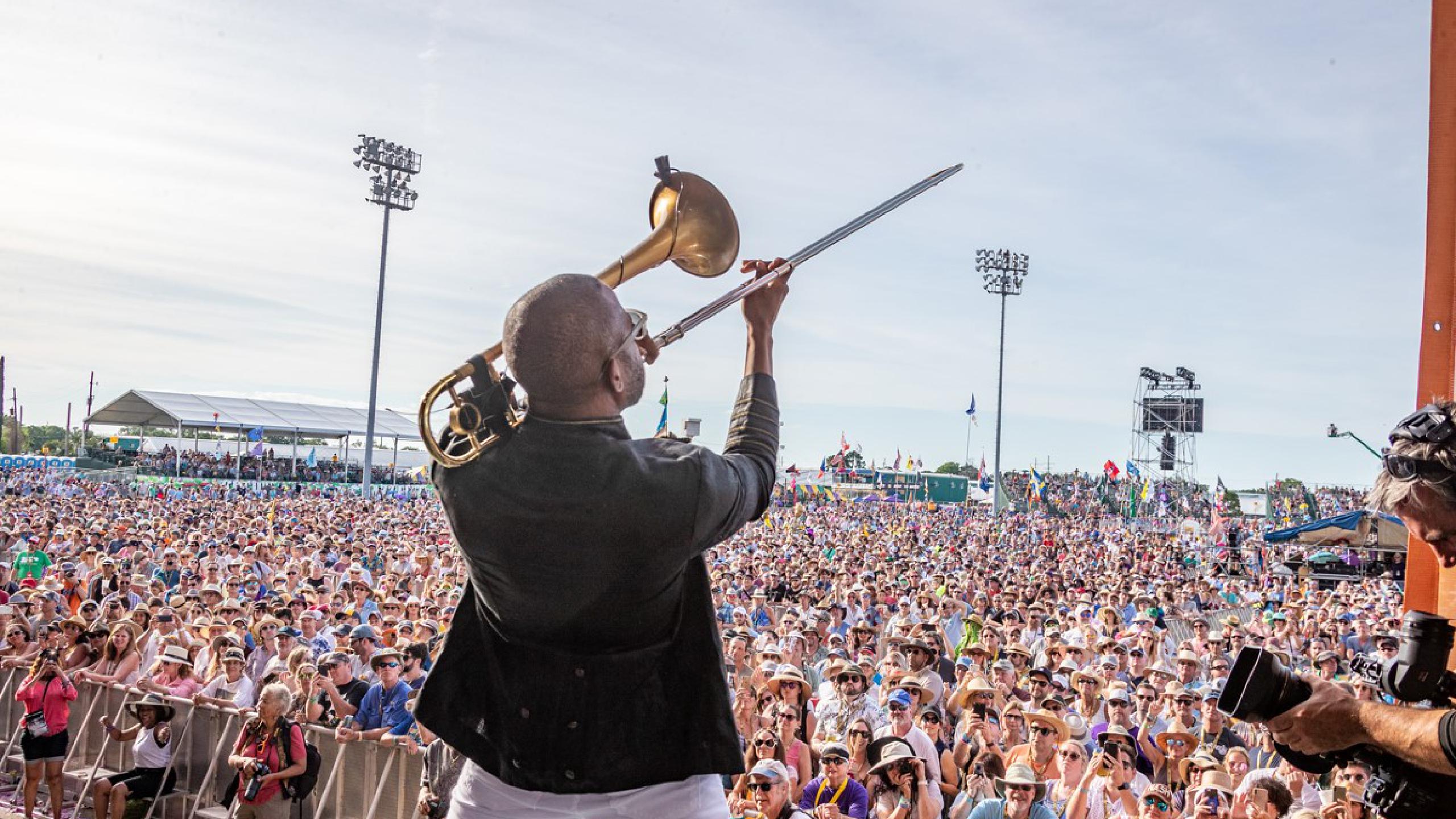 We will exclude the brass bands and local acts (even though they are truly the main reason we go) including nationally touring NOLA acts like
Irma Thomas
,
Kermit Ruffins
,
Big Sam
,
Galactic
,
Trombone Shorty
all the Brass Bands who will all be there.
Also we are obviously skipping the great jazz, blues and gospel acts who will be the foundation of the festival in their respective tents. Lets just talk about the bigger national touring artists for now....We will focus more on locals closer to the show.
To get in the southern festive NOLA mood, here is a great video done by Jeronimo Acero that my friend
the fantastic Lu Brow
sent north to warm me up during the winter.
Now on to the predictions....

Let's start with some Headliner size guesses...
The Who

The Who Two of Townshend and Daltry let leak a few months back that they would be in New Orleans the end of April. This one is the biggest lock on the board.

Neil Young & Crazy Horse

The second artist we featured in our

Masters Series

who we think are a pretty safe bet to play the festival. The Who and Neil Young with Crazy Horse at Jazzfest? This just proves rock and roll can never die...

Pearl Jam

A

recently announced new album

means that the Seattle rockers will be out on the road this spring and both weekends are currently wide open. Here is hoping they play the second one.

Lizzo

When

Bonnaroo

announced their headliners a few weeks back Lizzo seemed a pretty big jump up the ranks to headliner status, but she would fit perfectly down at Jazzfest closing out one of the big stages.

Kesha Big Freedia

and has an open tour date on the 25th of April. She is very likely the pop star headliner for Friday during the first weekend.

Dead & Co.

All of the early announced late night shows have some sort of

Grateful Dead

vibe going for them. Seems a pretty safe bet that the crew headline this year, something this formation has yet to do.

Jimmy Buffet

Another safe bet as he always plays down at Jazzfest (he is even wearing a Jazzfest hat in that picture) and his current tour has a big gap in it over the second weekend of the Festival. We will call a Saturday headlining slot for Buffet and the parrot heads on May 2nd.


Van Morrison Brittany Howard

Ahh someone new, younger

and good

! She is playing

High Water Festival

the weekend before Jazzfest kick's off so here is hoping she stays on the festival circuit.

RtBE

loved her first solo record and could see her closing out one of the stages this spring.

Oysterhead Now some bands who always seem to be on the bill with good reason and will probably be playing the festival again this year

:


Wilco

RtBE

has caught them a few times already in the Big Easy.

Trucks and Tedeschi Band

Because they should headline every Thursday of the second weekend, they are the right band for that job with Widespread Panic not touring as much...speaking of which...

Widespread Panic

Because if they are touring, they are playing Jazzfest.


Now a few lower level national touring acts who could/should be gracing the stages

:


The Avett Brothers


There is a gap on this touring bands schedule during the first weekend of the festival and they will be in that exact part of the country before and after (Alabama on one side, Texas the other) . Seems like a pretty good bet they will be there and probably headlining the Acura stage.

The Black Pumas

At the moment both weekends are open on their tour schedule and selfishly

RtBE

hopes they play the second weekend when we will be there. We

loved their debut record

(it also made

our top ten list

) and would dig catching them at the Fairgrounds.


Drive-By Truckers

New album coming later this month and this just feels like a natural fit. Shockingly

RtBE

have yet to catch DBT at JF yet....speaking of the Truckers


Jason Isbell & The 400 Unit

A new album on the way in early 2020 and yet another band that should be playing every year at the festival. Speaking of which...

The Highwomen

A new group that will hopefully make their debut at Jazzfest this year. Speaking of which...

Yola

This sometimes member of

The Highwomen

is touring and she is poised for a breakout in 2020, even though

RtBE

rated her

debut highly in 2019

. (OK will end that Speaking of which bit now...)

Yeah Yeah Yeah's

The indie rockers have a few dates on the calendar and would seem to be a good fit to close the Acura stage one weekend as the festival usually gets some indie cred on that stage for a day.

Turkuaz

The band is touring with

Adrian Belew

and

Jerry Harrison

to celebrate

The Talking Heads Remain in the Light's

40th Anniversary. Makes sense since we felt their last record

was a knock off of that band's style

. This tour will def be hitting a stage in NOLA one of the two weekends.

Delta Spirit

The band is reforming and touring this spring and Jazzfest would seem like a natural fit. the tour dates look like a show closing Sunday set could be in the cards.

King Gizzard and the Lizard Wizard

I don't think these prog rockers have yet to play the festival, while their antics may be better suited for late nights they could def throw down an interesting afternoon set.

Mavis Staples Shannon and the Clams recent set of theirs we caught in Brooklyn

. They would also be a fun late night show if they chose to go that route.

The Raconteurs And now some people who

RtBE

loves and feel that they should be playing the festival (or late night), but probably won't be... Dr. Dog- Screaming Females

-

Lil' Wayne

-

Probably not the NOLA festival for him, but hot dam

RtBE

would love to catch Weezy at the fairgrounds.

Bob Dylan

-

Tom Waits

-

Who do think is playing, who do you want? Feel free to comment below and stay tuned for the official announcement.