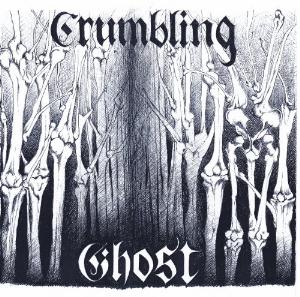 Crumbling Ghost
Crumbling Ghost
**and1/2 out of *****
This is self titled release from London's
Crumbling Ghost
is a bizarre trip that is dense and layered with all sorts of sounds, theme's and playing styles. Billing themselves a Pyschedelic/Folk/ Progressive Rock band, the group has a wide array of areas to explore and at times seems overwhelemed by all of the freedom. During any one of their (long) songs it can feel as if three seperate bands are playing on the same track, at the same time. Technically gifted with parts that circle around, the group is never boring, but can be confusing.
The opening "The Collector" is the best effort and a good example of the band as a whole. Starting with organic bird chirps that morph into feedback before
Black Sabbath
like metallic screeching slams into arraigned noise parts and upbeat arena riff breaks. All are pleasant on their own and could be individual songs, but when jumbled together it can get a hair schizophrenic.
Other songs dive right into the folk element ("Battle of Barnet", "Omie Wise") before unleashing huge electric guitars and thundering drum endings. Regarding the bands take on the folk traditional "Omie Wise", it shows a love of the genre but a serious need to work on vocal delivery, in fact a purely instrumental take here may have been more forceful.
A sense of stoner-rock doom seems to be lumbering behind these tracks, as things never get too happy, maybe it is just the evil vibe that lurks in the best folk songs (or a heavy bong session) but "Aggro Pronto" mixes in sunshiny 6-string licks keeping things from crushing down heavy. "The Stumbling Host" again blends up genre's with layers of acoustic strums, noise drone ringing and R2D2 like bleeps.
There are glimpses of real magic that show up in songs here, even if they don't always stick around past a few measures. Being the first release from the group, having some faith, growing and finding a balance between all their musical loves should be an adventure worth taking.
_____________________________________________________________________
You can find the
album download here
, and here are a few preview track for you:
"The Collector"
"Omie Wise"