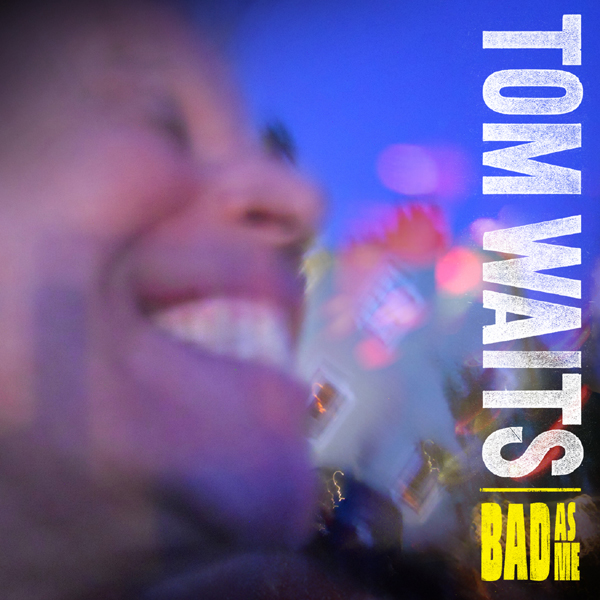 Tom Waits
Bad As Me
****and1/2 out of *****
When
Tom Waits
released his last collection of new original songs, 2004's
Real Gone
, he dove head first into toying with his voice as an instrument, adding it to his growing collection of weird sounds to be tinkered with for the end result of creating a song. It lead some to believe that his vocal chords may have given up after years of gruff growling, but now 7 years later
Bad As Me
proves that his vocal death-song was premature. Waits not only sings (almost) soprano on this disk, he plays with all of his past vocal styles, from ballad to yelper and does so with a flash not seen since
Mule Variations
.
The tough guy troubadour with a heart of gold sounds at ease rolling through his familiar seedy back alleys and may just be the best sentimental singer around (The rough voice making it so much sweeter). The stripped down weepy ballad "Last Leaf" takes something so simple and makes it memorable with
Keith Richards
adding backing vocals. The aged Rolling Stone also shows up on guitar and in the lyrics to "Satisfied" with its stomp and aggressive howl, fueled also by a
Les Claypool
bass line. There are A list supporters throughout with
Marc Ribot
on guitar,
Clint Maedgen
on Sax, and
Flea
on bass just to name a few. All three of those contributors and a slew more slam around on the raw "Hell Broke Luce" which may be Waits first overtly political song that deals with war and the horror of returning from one.
The uppity steam engine swinging soul style of the opener "Chicago" recalls the jazz age while the waltzing "New Years Eve" with it's epic lyrical trail and accordion squeezes ends the night with the candle burning low as "Auld Lang Syne" dissipates into the cobblestone darkness. In between we get the twitchy horn tooting "Get Lost", torch song bleakness of "Kiss Me" and the isolated aloofness of "Face To The Highway" all winners, in fact there isn't a dud in the bunch. Even the bonus disk holds surprises via the 50's pop styled "Tell Me".
Bad As Me
is the album Waits should be making at this point in his career; reflecting on all of his triumphant styles without one dud in the bushel. The album solidifies his already impressive cannon with an artistic work that stands up with the best of all his great albums.
_______________________________________________________________________
This is a doozy of a disk, I was thinking Waits may have been past his best days after
Real Gon
e, while I didn't hate it, it was far from his best work. An idea which was solidified when he released the excellent
Orphans
.
Glitter and Doom
was a nice live addition to his catalog, but could he ever reach down and pull out another selection of timeless songs? Yup...here it is... Some songs to preview, please support this great artist
by buying the album here
.
"Last Leaf"
"Kiss Me"
"Hell Broke Luce"