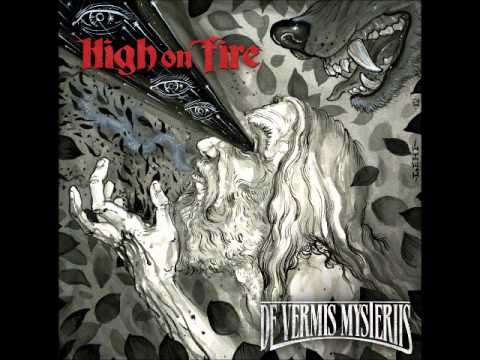 High On Fire
De Vermis Mysteriis
**** out of *****
I am sure it is a question a lot of headbangers have pondered over the years; what if
Motorhead
decided to branch out into different realms of metal subculture while still keeping their powerful core intact? If that experiment was successful it may sound an awful lot like
High On Fire's
newest release
De Vermis Mysteriis
which is one of the baddest ass, heavy as hell, albums released this year.
Matt Pike, Jeff Matz and Des Kensel are putting the power directly into trio on this album with slamming drums, raw bass and monster riffs. From the opening rumble and screams of "Serum of Liao" it is clearly go time with production showcasing the low end while giving Pike's guitars and vocals as clear a path to destruction as needed.
"Bloody Knuckles" struts with aggression sounding way bigger then a trio while Pike's vocals are stripped down to passionate yelling. It should be mentioned that there is a lyrical theme, almost concept, running through this disk about Jesus dead twin who time travels and incorporates the
Cthulhu
or something...Actually the lyrics themselves are secondary to how great the vocals and music really sound, producer Kurt Ballou should receive some credit for keeping things raw and harsh but still immensely listenable.
Other scorching highlights are the doom progression that is "Madness of an Architect", the epic "King of Days" with it's sword and sorcery feel and the speedy spastic slapping of "Spiritual Rites" that incorporates laser like guitar lines into things, playing as a disk highlight combing all the elements that make the album a winner.
Metal seems to contain more adjectives to describe it then most other genre's and
De Vermis Mysteriis
hits them all, but never wallows in one too long. Stoner, speed, heavy, black, thrash, whatever...Pike and crew stomp like giants of old and thunder like rock gods of the past and hopefully future.
___________________________________________________________________
While
The Chariot
put out One Wing it
was
a bizarre intoxicating mix of metal and oddness,
High On Fire
stay straight ahead and is a straight up success. The more I listen to it the more I dig the sounds, power, and feel of Pike and company. The end results are rewarding and worth your time if you dig heavy, engaging music of any sort. Support the
band here
, buy the
album here
, catch them on
tour here
and peep a few samples below:
"Spiritual Rites"
"King of Days" Epic...