Drive By Truckers
English Oceans
***and/12 out of *****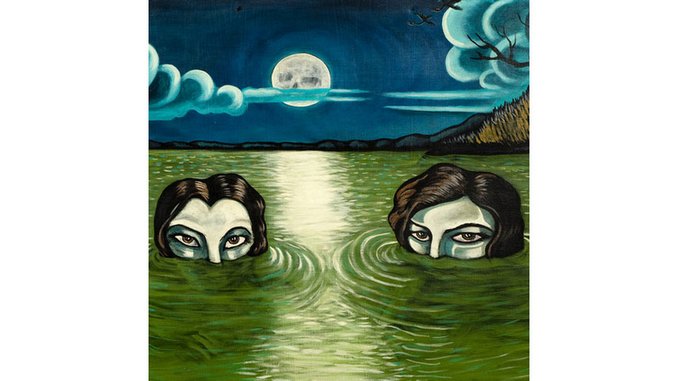 The consummate southern rocking songwriters are at it again on
English Oceans
. The bands 10th proper studio album finds the group still in fine form. The band has morphed over the years with various song writers entering and exciting like Jason Isbell and Shonna Tucker but now just Patterson Hood and Mike Cooley stand tall as original members and songwriters.
The most exciting new development is Cooley going toe to toe with Hood regarding the amount of tunes contributed on
English Oceans
. In the past Cooley always had 1-2ish songs per album with sly lyrics and fun picking, here he is full on equal if not forerunner writing 6 of 13 and hitting a special groove. Cooley's "Shit Shots Count" opens things on the highest of notes with a fantastic horn outro but not before the classic couplet: "Pride's what you charge a proud man for having/Shame is what you sell to a whore".
The other obvious highlight is Hood's disk closer "Grand Canyon". Gloriously spacious, echo filled and touchingly dedicated (like the whole album) to the bands lost friend Craig Lieske. Apparently it was a last second decision to record and include the song but the album is much better off because of this captured moment.
In between these gems the DBT's do what they do best, craft cinematic tales around southern rock riffs and strums. Damaged politics, poisonous relationships, broken dreams and old age seem familiar territory for the group yet they still manage to mine fertile songs. The one downside (and it can be said for a lot of the bands output) is it feels almost too much for one disk, the band comes at you with interesting lyric after interesting lyric via the same guitar attack and at the end you feel wiped out.
There are moments though like the piano/sustain combo in "Paulina Hawkins" where the beauty just rises amongst all the heartaches, headaches and broken dreams the band sings about. It is doubtful they ever stop and when they continue to put out this quality of tunes why would they even consider it?
_____________________________________________________________________
Great to see Cooley on even footing with Hood, his track "Cartoon Gold"
was our favorite on Go-Go Boots
. This band is really great, a southern version of
The Hold Steady
in our eyes, since we are NY'ers the Steady hit home more, but the Truckers are fantastic.