Drive-By Truckers
It's Great To Be Alive
****and 1/2 out of *****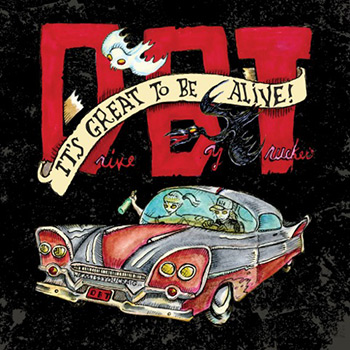 Here's the deal with live albums, they are not going to convert any new fans, they are for the disciples. Here's the other thing with live albums, they are 99% of the time gap fillers/last gasps/money grabs and usually lesser than any studio effort from the group. Then there is
It's Great To Be Alive!
from the
Drive-By Truckers
. While the band has studio efforts that may be technically better (and no
Jason Isbell
tunes are represented on
IGTBA
), this live disk nails exactly what the Truckers are all about.
It is massive. 35 songs that run the gamut of their now 20 year career; you can never say DBT didn't give it their all. In fact one of our only critiques of the band in the past is that they have given so much, the high points get washed out by the many solid workman like songs.
Production is pristine, guitars strum, ring out, slam with power while keys accentuate and low end rumbles when needed. The album was recorded during the bands 2014 three night stand in San Francisco's Fillmore West and finds the players clicking expertly. All of their back catalog is represented, with the newer songs holding up with fan favorites, and in some cases surpassing them.
Fans will know the tunes, but all of them are worth hearing. Old warhorses like "Women Without Whiskey", "The Living Bubba" "Ronnie and Neil" come alive with the five piece band. It is interesting to hear how the tracks get re-interpenetrated with this smaller more precise team of players and things really flow gloriously, then the horns come out and jump up the levels even more.
Newer songs like "Made Up English Oceans", "Shit Shot Counts" and "Pauline Hawkins" crackle with vitality. Dueling guitars, bass, drums, keys and the occasional brass augmentations are all the story tellers Patterson Hood and Mike Cooley need to deliver their gritty story songs in this live setting.
Going more in depth some of the power guitar is lost scaling back from a three to two guitar attack, notably on "Putting People On The Moon", the nuances and shifts are engaging and make up for it even with some slightly buried vocals. The closing track, the bands "Grand Canyon" which was a standout on
English Oceans
, becomes even more magical here. It is a cyclone of guitars, key fills and emotion that ranks up with "Like A Hurricane" or "Tenth Ave Freeze Out" during the majestic live airing, this is a must hear.
In the end we would still recommend buying their studio disks (start with
Decoration Day
, or
Dirty South
, or
Brighter Than Dark's Creation
, hell, any/all) but this excellent live document will rank up there as one of the groups best collections and a true all-time great live recording. It is true,
It's Great To Be Alive!
__________________________________________________________________
RtBE
wanted to start off 2016 on a very, very positive note for our first review. Support
the band
, buy
the album
and peep some video below: