Alex Chilton
From Memphis To New Orleans
*** out of *****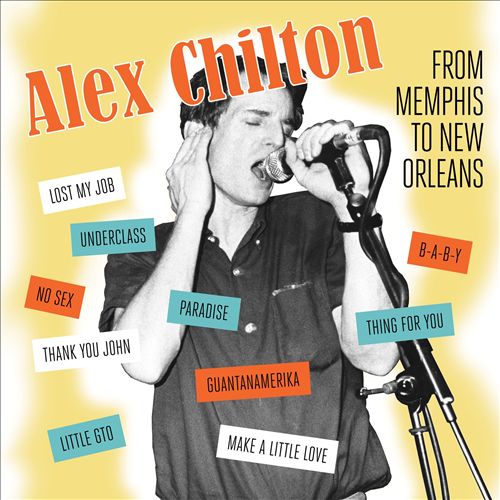 A cult hero/recluse
Alex Chilton
retreated from the spot light post
Big Star
and he made the title journey
From Memphis To New Orleans
. This collection combines the best of the
No Sex, Feudalist Tarts
, and
Blacklist
EP's along with the
High Priest
LP resulting in a laid back collection of tunes which smile with charm but never light the night on fire.
A collection of deep covers and originals, with smooth horns and easy singing as the R&B rolls out in New Orleans fashion. The cover of
Willie T's
"Thank You John" is an emotional buoy as the horns work and Chilton sings to suckers, hustlers, crooks and lovers while the Memphis cooked soul of
Carla Thomas
"B-A-B-Y" openers up the effort with relaxed grooving.
Chilton seemed more at home covering more obscure R&B tracks then producing new tunes during this era, but a few new ones popped up. The updated take on getting down "Take It Off" was grooving and oddly enduring in its plea for naturalist vibes while the rollicking rolling ode to the downtrodden "Underclass". Chilton also mixed covers with originals as he blatantly ripped off
Bob Dylan's
intro to "Most Likely You Go Your And I'll Go Mine" for his rolling blues of "Lost My Job".
Chilton does an adorable cover of
Gerry Goffin
and
Carole King's
"Let Me Get Close To You" before one of his strongest track here "Dalai Llama". The number is a bass driven early rock and roller while guitars trace angular riffs throughout with intoxicating style, running over five minutes the tune could keep choogling along for hours. Other efforts like "Things For You" find Chilton singing fairly lamely around standard backing, never really going anywhere while he does a
Lou Reed
impression on "Make A Little Love" with soul accents.
A mixed bag of efforts find various levels of success, but fans of the artist can now find some of his best lesser known era tracks in one spot. When
Paul Westerburg
shouted him out via the catchy as hell tune with his name on it, and other 80's act like
R.E.M.
sung his praises he was busy reinventing himself in the Crescent City. The results here are a fun reminder of a quirky period in Chilton's career.
_________________________________________________
Support
the artist
, buy
the album
and peep some video below: