We search the murky back waters of youtube to find full concerts and post them to the site weekly, come back every seven days to help us celebrate Full Show Friday's. These shows are of varying quality and may not be here for long so enjoy them while you can...As always, please support the artist every which way, but especially by seeing them live (if they are still playing)...This week...Pat Metheny and Charlie Hayden!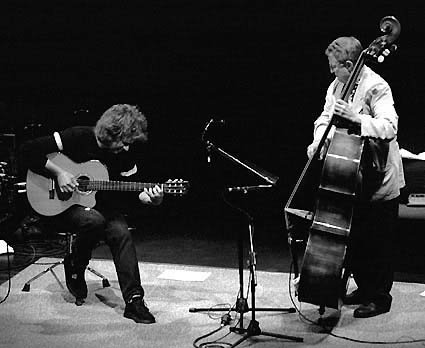 It's Jazzy January again here at

RtBE

, so get ready to kick off 2021 with some different styled shows every Friday. For this series we skew into new (or more recent) jazz lands. Keeping it current proves there is amazing live jazz still being performed no matter what Ken Burns says.
Today we go to some (mostly) acoustic guitar and bass interplay with Pat Metheny / Charlie Haden - The Missouri Sky Duets from back in 2009.
Pro shot, pro sound, full set list and info below. Enjoy:
Pat Metheny - acoustic & electric guitar Charlie Haden - bass
00:18
Unrequited ( Mehldau )
07:09
The Sound Of The Water
13:07
Waltz For Ruth
19:04
Our Spanish Love Song
27:16
First Song
37:09
The Moon Is A Harsh Mistress
41:50
Message To My Friend
48:19
The Precious Jewel
53:50
Two For The Road
59:32
Farmer's Trust
1:08:07
Blues For Pat
1:21:44
Blue in Green recorded 15.07.2009, Vitoria-Gasteiz, Spain