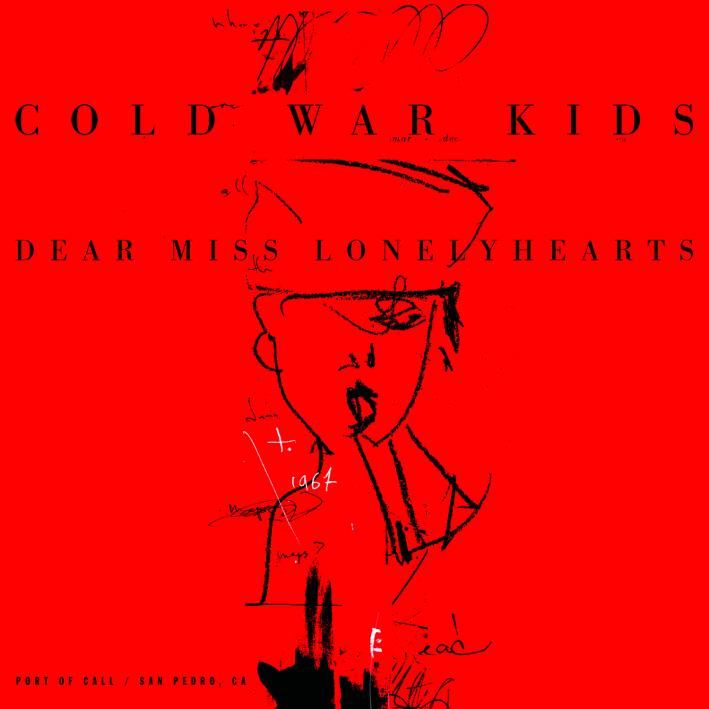 Cold War Kids
Dear Miss Lonelyhearts
**and1/2 out of *****
The Long Beach based quartet has been the epitome of "blogging buzz band" throughout their existence. Starting things going in 2006 on a national level they were the darlings of the blogosphere, putting out the successful
Robbers & Cowards
, quickly followed by
Loyalty to Loyalty
. Almost immediately the backlash started from the same people who hyped them up; there certainly have been others, but for my money CWK summed up the instant love/hate relationship the fickle net has with bands the best.
Their last album
Mine Is Yours
moved away from niche fans, they went all in pairing with producer
Jacquire King
to craft a pop tinged mainstream release that seemed stale from the first note, but also exposed them to a much larger fan base. Now
Dear Miss Lonelyhearts
arrives and the band seems to be searching for where to go next. That wandering can lead to some interesting songs but overall the band seems to not be comfortable in any style they play with here.
The first single "Miracle Mile" finds the group returning to its stripped down piano based rock driving straight ahead slamming into the questions of fame with Springsteen like power, resulting in the best effort here. Swelling organs join the proceedings as do meaty guitar lines and rising drum fills.
Then things instantly turn into electro-drum dance tunes over digital keyboard beats and new guitarist (and producer here) Dann Gallucci's (formely of
Modest Mouse)
strums with "Loner Phase" and "Lost That Easy". This straddling of stripped down 4 on the floor piano rock and late night electro dance seems to be just one split in the band as things just never gel as well as they could. Tracks like the schmaltzy "Water & Power" with big choruses and the odd ballad-like disk closing "Bitter Poem" seem unaffected emotionally, possessing shades of
Arcade Fire
, but without the passion.
This is also the first release from the band where frontman and lyriscst Nathan Willett hasn't crafted at least one tale that hits home from a storytelling standpoint. Perhaps that is because on the title track he sings, "I am giving up explaining sorrow" which (if taken literally) would be a shame because he has struggled with it well on past releases.
That is not to say things are lost for the band, far from it. Songs like the motoring "Jailbird" and the aptly named tripped out sonic experiment "Fear And Trembling" (complete with squeaking saxophones) are both winners.
Cold War Kids
no longer need blog based love, but it seems they may need a solid direction going forward.
___________________________________________________________________
We were all over this band when they
were first coming out
. Gave their first album
some big time love
, but since then have been disappointed with their releases, especially their mainstream attempting
Mine Is Yours
.
We looked forward to this album to see what the group would do next and to be honest we are not sure where we completely stand on this release. On first blush we hated it, but certain songs really grew after a few listens...who knows, maybe it will jump to the top of our 2013 list...the one thing I still think is that they do have an
all time great
album inside of them somewhere.
You can grab
the album here
. (You can also for a limited time
stream it here
). Catch the
band live here
and peep a few samples below:
"Miracle Mile"
"Fear And Trembling"