The Sazerwrap has been

RtBE

's way of rounding up all the amazing things that happen down at our annual trip to Jazzfest in New Orleans. This year we will breaking the review up into two parts, Food and Music, today is the Music. Only 11 Months until next years festival!
It usually takes us until the end of May to wipe the smile off so with that it is time to look back on what has become a highlight of every year...the music down in NOLA in and around Jazzfest.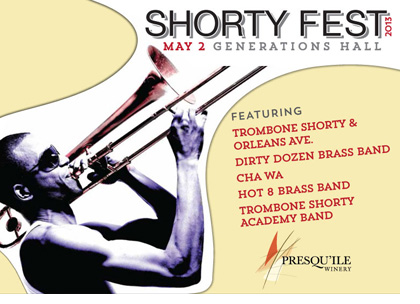 Shorty Fest
One of our highly anticipated outings came upon us quickly with Thursday's Benefit for the
Trombone Shorty Foundation
. The lineup was outstanding as was the venue, this was our first time checking out
Generations Hall
and with it's fancy look and feel, easy access to bars and bathrooms and multiple stages it certainly was a venue we can't wait to get back to (granted it is kinda like a wedding hall, but in NOLA we didn't mind). Glad we got there early as
The Hot 8 Brass Band
played right at the front door as people walked in, they were tight, exciting and funky. Then the academy band took over and while nervous for their first few songs really found their groove and got rocking, it is a pleasure to help out these musicians by coming and seeing them play.
Dirty Dozen Brass Band
rocked it out on the main stage while
Cha Wha
got down New Orleans Indian style on the small stage. Headliner and main event
Trombone Shorty and Orleans Avenue
took over and blew up the venue into the wee hours. The easy highlight was surprise guest
Warren Haynes
joining in on a killer version of the
Allan Toussaint
classic "On Your Way Down", probably
RtBE's
personal musical highlight of the whole trip. Haynes was electric taking over all guitar duties and flying with it, he didn't seem like he wanted to leave the stage but he did as the group played some of their growing NOLA classics, "Hey", "Do To Me" and the bad ass instrumental "Suburbia". A hell of a night of tuneage and for a good cause?! Sign me up for a VIP pass next year.
The Rough Seven, Ratty Scurvics Trio, The Unnatural's
After a Friday of hitting Siberia and being a bit disappointed
Katey Red
never made it then only sticking around for a few minutes of
Quintron
, we headed back to Siberia on Saturday to catch one of our personal favorite bands on the planet,
The Rough Seven
play late into the night. Opening for the group were
The Unnatural's
, we had never heard of them, but boy were we glad we caught them. They play a blend of rockabilly and surf in a dirty NOLA style that is as intoxicating as a whiskey smash.
The
Ratty Scurvics Trio
was up next and having
interviewed Ratty for his part in the Rough Seven
, I was excited to finally see his solo stuff. Needless to say it was great, theatrical and a touch weird. You will be hearing more from both of these bands on
RtBE
soon so stay tuned.
When
The Rough Seven
took the stage they wasted zero time blazing into their tune "Meltdown" with the dueling guitars of frontman Ryan Scully and lead guitar slinger Rob Cambre. The slow burning/building emotional tune was a clear set highlight, the band played as only a 5 piece tonight as the backup singers got a break from the chaos. "Had A Home" rang out strong and true as the band smashed out their low-down-mortgage blues. Ratty performed double duty manning the piano for the Rough riders as Cee Jay Floyd kept the bass-line along while Mike Andrepont kept the beat. The band's pumping cover of the
MC5's
raucous "Kick Out The Jams" was a blast of pure energy and balls out excitement; we could see this band play every night and it would never get old, never give up your dreams fellas. (here is some video from Voodoo Fest, glad
we got up early and made this one
)
Jazzfest
We only went one day this year, but with the underwhelming lineup and early week rain it didn't feel like we were missing all that much. When we got to the fairgrounds we immediately grabbed some food
which we already talked about
. Then moseyed over to the main stage for
The Metermen with Page McConnell
. This set was delicious as the band ran through the Meters back catalog of funky tunes that are pure NOLA. Page was a perfect fit, playing runs and being active on the keys the whole time, here is about 20 minutes of pro footage from their set starting with "People Say":
We made it over for a few songs of
Irma Thomas
including her heartfelt (if a little sterile) cover of
Bob Dylan's
"Forever Young". After strolling through the grounds some more we caught the
Black Keys
set which was pretty damn crowded and an obvious destination for a lot of fans. Opening as a four piece the group blasted into "Howlin' For You" before playing one of their set highlights "Next Girl". The band continues to get so revved up when playing live that their pace and tempo suffer; I am not sure they will ever be a great live band, but their most recent albums have been phenomenal and tracks like "Lonely Boy" "She's Long Gone" and "Money Maker" are a thrill to hear live even if they are sped up.
We got more eats (and lots more drink) as we strolled around, but nothing much worth of note as we skipped the set closing Trombone Shorty engagement to get back to town...where we just happened to run into both
Black Keys
separately...but that is another story. We can't wait to get back to town ASAP it is magic like that which will always keep us coming back.