The Abyssmals
Gospels, Hymns and Other Trash!
***and1/2 out of *****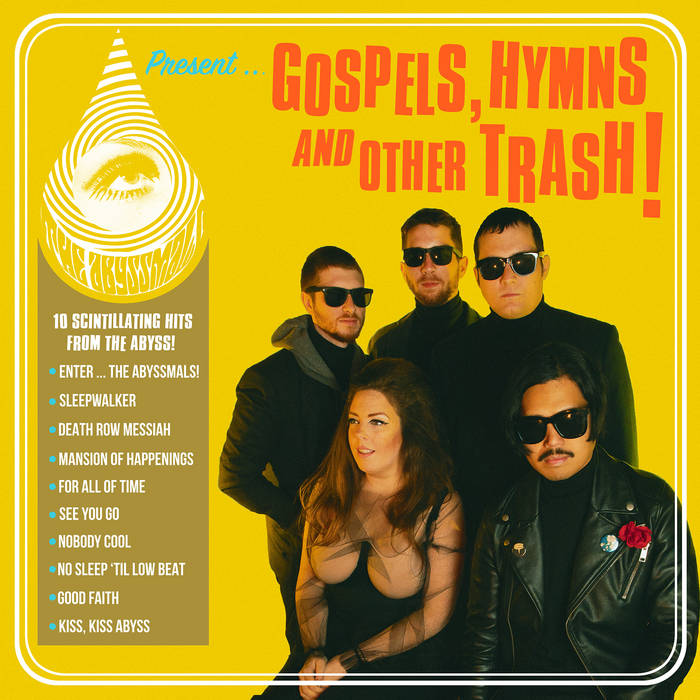 Schenectady, NY based retro rockers
The Abyssmals
first proper full length release
Gospels, Hymns and Other Trash!
is a winning combo of surf influenced garage rock and psychedelic stoner impulses.
Even before the record spins the cover arts is straight out of the mid-sixties as the five piece; vocalist/guitarist Jarpon Reyes, drummer Nick Nigro, bassist, Boris Cahrenger Multi-instrumentalist/percussionist, Muffy Reyes and guitarist Bob Forget, play with those early rock styles over the ten tracks on the record, moving from dirty low down hip-shakers to cosmic journeys into the unknown.
Opening with a brief introductory surf rock instrumental the outfit announce their retro love before the marching beat and trippy strumming of "Sleepwalker".
Gospels, Hymns and Other Trash!
moves between upbeat and spaced out, but the band works best when they let the hallucinogenics kick in and get out of their heads, a highlight being the psychedelic swirling of "Mansion of Happening". The dreamy closer "Kiss, Kiss Abyss" and the droning groove workout "Good Faith" which warbles and tambourine shakes its way out into the unknown are two other slower joints which burn down with shimmering trails.
The quartets more upbeat numbers like squawking echo driven "For All of Time", the bass driving
Nuggets
ready "Death Row Messiah" and groove based "No Sleep 'Til Low Beat" are all solid examples of overloaded garage rock, the best of these being the motoring diesel of "See You Go" which cooks with slamming snares, a ripping guitar solo, keyboard popping and vocal "Woah!" punctuation, but the group seem to be expanding it's horizons. A track like "Nobody Cool" finds the band combining heavy metal ready riffs with softer tranquil passages resulting in an interesting grimy/heavy/outer space jam; a direction worth exploring further.
Like
The Black Angels
the group are taking their sonic palette cues from an era past, but shaking them out into a modern days with success. Already having a few tunes in Netflix
The Punisher
this group is making waves from Upstate, NY, as a complete record
Gospels, Hymns and Other Trash!
should be listened to at three in the morning with a good buzzing light show as the strobe lights and psychedelics both shine their high beams.
____________________________________________________
Support
the band
(from Schenectady no less!), buy
the album
and peep some video: