Leyla McCalla
The Capitalist Blues
****and1/2 out of *****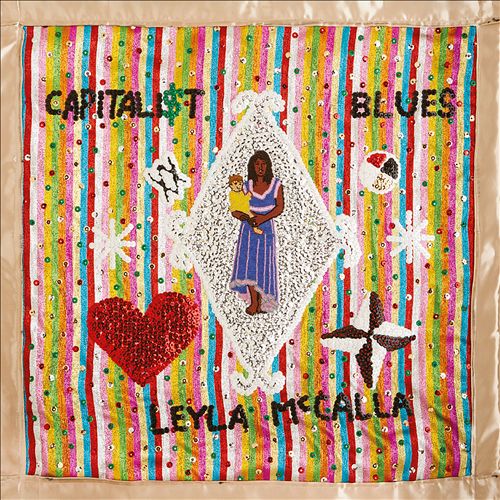 There are albums that are absolutely about their time and place and then there are timeless albums,
Leyla McCalla's
newest release
The Capitalist Blues
does the neat trick of sounding both of the immediate moment and as if it has always existed.
The former member of
The Carolina Chocolate Drops
, McCalla's solo records have been successful but now she pulls all of her talents together with an anything goes attitude; a celloist by trade, McCalla wanted to expand her musical pallet and step away from the instrument this time out. Working with producer
Jimmy Horn
and his full
King James and The Special Men
band her touring trio and a host of others, Leyla increases the instrumentation and embraces the diverse musical styles of New Orleans and beyond to craft a warm, alive in the moment sound throughout.
The title track starts the record with a slice of gorgeous old-timey blues/jazz straight from Storyville as banjos strum, warbling trumpets and sultry singing lament the current state of affairs over timeless playing; the tune could have been written in 1919 or 2019. The protest Caribbean sounding anthem "Money Is King" is another track which sounds from another era, but written by McCalla to deal with the current cultural issue; dancing is encouraged while the brain works over the lyrics.
McCalla sings in French on the songs "Lavi Vye Nag", "Penha" and "Miz Pa Dous" as her Haitian Creole heritage swirls, but no matter the language her vocals are gorgeous; earthy to soaring from moment to moment. While her vocals are fine on their own she gets some excellent support on "Heavy As Lead". The tune is slow blues number led by a soothing B3 organ as it swells increasing backing vocals, chimes and love over it's six minutes run time.
The album isn't all slow by any stretch, "Me and My Baby" proves Leyla can sing just as enchantingly in a playful mood over a rolling New Orleans strolling tune while "Oh My Love" pulls in the Zydeco for a party on the bayou. The one outlier on the record is "Aleppo" which deals with war violence in spooky shades, of angular electric noise rock guitar riffs and a deep bass before a feedback ending. The track is incredibly effective, if slightly out of step with the overall feel of the album.
The percussive led vivacious closer "Settle Down" finds the Haitian band
Lakou Mizik
helping out with poly-rhythmic force. McCalla manages to blend history, world music, protest, true emotions in a way that could keep going through partying night and reflective mornings. Also a major player involved in
Our Native Daughters
excellent first release
McCalla has already had a breakout year and her star is only shining brighter with
The Capitalist Blues;
a captivating collection of tunes from any political tilt, place, or era.
_________________________________________________
Support
the artist
, buy
the album
and peep some video below: