Goldman Thibodeaux and the Lawtell Playboys
La Danse à St. Ann's
**** out of *****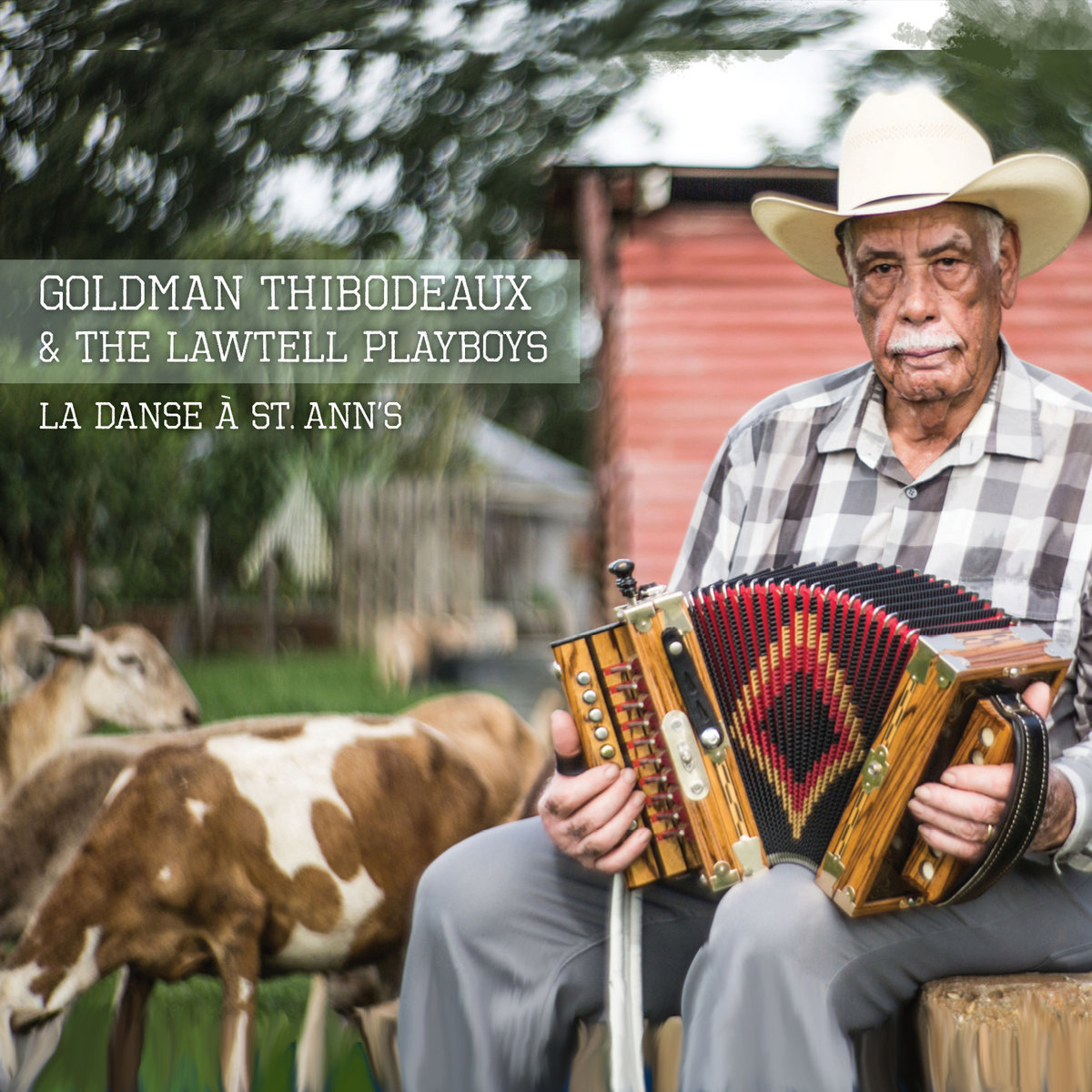 The first release in over 15 years from the Folklife Heritage Award winners
Goldman Thibodeaux and the Lawtell Playboys
finds the group in the perfect venue to record their down home style of traditional creole music;
the Thibodeaux Family Reunion in Mallett, Louisiana. Before "J'ai Plus De Place Pour Aller" Thibodeaux even regales the large familial crowd to get in line for the good food because it won't serve itself.
Thibodeaux is a living legend (
literally
) when it comes to traditional Creole or "La La" music with roots dating back to the middle of the 20th century but the 87 year old and his Playboys get down with gusto on this live recording. The music he plays formed the basis of Zydeco, but the style presented on this record rolls along on a looser dance folk groove.
Things get swinging on the fantastic "J'ai Essayer Te Faire M'saimer" while the stomp gets pushed forward for the instrumental "Allons Sur Le Plancher". Louis Michot from The Lost Bayou Ramblers is onboard to deliver the goods on fiddle and he shines while working in concert with Thibodeaux's accordion work on tunes like "Je T'aime Autant", "Pauvre Hobo" and "Blues de Goldman". The rest of the Lawtell Playboys (Brock Thibodeaux - frottoir Courtney Jeffries - acoustic guitar Justin Leger - electric bass Barry Cormier - drums and vocals) lock in and live it up especially on the album closer "Jongle Moi" with Thibodeaux saying at the end, "you still got it".
This traditional sound goes back a long way but it is anything but dated as the players spritely jump around each other crafting an intoxicating cauldron of head bopping and hip swaying joy on numbers like album opener "Step de St. Anne" and "Allons Danser" but it is once the family had their fill of the food the dance floor filled up for the waltzing "Vaslse De Les Misere" and the upbeat shuffling tunes like "J'etais Au Bal Zydeco Sont Pas Sale" and "Jolie Catin" that things really cooked.
The record was produced by Mark Bingham and Michot for Nouveau Records and the recording puts the listener smack dab in the church hall where it was captured via lively sound, crowd chatter and comfortable style. Both those new to the La La or long time fans of the style will have a ball with the joyous tunes delivered by
Goldman Thibodeaux and the Lawtell Playboys on
La Danse à St. Ann's.
___________________________________________________