A few years ago, one of the best blogs out there, WFMU's Rock and Soul Ichiban put together a great collection of Halloween inspired tunes and playlists.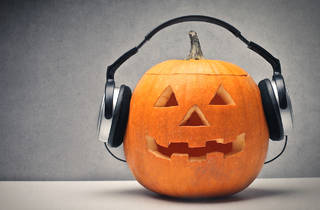 They have crafted
one dealing with ghosts
which you can directly
download
. Another that
tackles vampires
and you can grab that one
directly
as well. Now there is also Weird-O-Matic
streaming
and a you can also drink a spooky cup o'
Alligator Wine
!
All of these are fantastic and as always Ichiban gives us old songs that are brand new to
RtBE
and all are also flat out awesome!
I mean how could we have missed
The Bar-Kay's
"Holy Ghost" for all of these years?
Damn that is some funky stuff. WFMU Rock and Soul Ichiban always delivers the goods, but in 2014 they got some help from their friends over at Fringe Factory who offered up a Halloween themed show themselves
right here
.
Here are a few songs that jumped out to us from these shows/free downloads and of course it wouldn't be Halloween without the "Monster Mash" and
Elvira
. She closes out our Halloween focus with her
Third Man Records release
"2 Big Pumpkins" written by the
B-52's
Fred Schneider:
The Pastel Six
: "The Strange Ghost"
The Primates
"The Creep"
The Upsetters
"The Vampire"
Virgil Holmes
"Ghost Train"
Bobby "Boris" Pickett · The Crypt-Kickers
"The Monster Mash"

Elvira "2 Big Pumpkins":