Every spring the New Orleans Jazz and Heritage Festival puts on the best concert gathering in America. Last year, like everything else, it was canceled. However WWOZ came through with "Festing In Place" last spring and it was RtBE's favorite remote experience of 2020 as the radio station dug deep and delivered amazing sets from festivals past.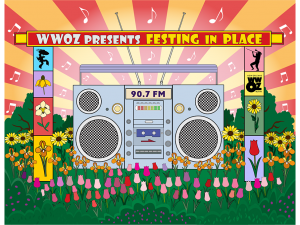 This year, Jazzfest hopes to return in October (fingers crossed) but WWOZ is still going to do Festing In Place to give everyone their spring Jazzfest fix starting April 22nd. The cubes were just announced and there are some great performances coming up:
Can't wait to tune in and have those TBA's filled in closer to the listening event. Last year the joyous music and communal spirit seeped through the speakers and while the world was shuttered WWOZ delivered a ray a sunshine from the south of the country to the whole world. It was a note of positivity that RtBE and countless others needed at that moment, this with hope on the horizon it will certainly scratch the festival itch.
To get pumped for the two weekend event here is The Voice of the Wetlands All-Stars from Jazzfest in 2014.