Glitter Wizard
Opera Villains
**and1/2 out of *****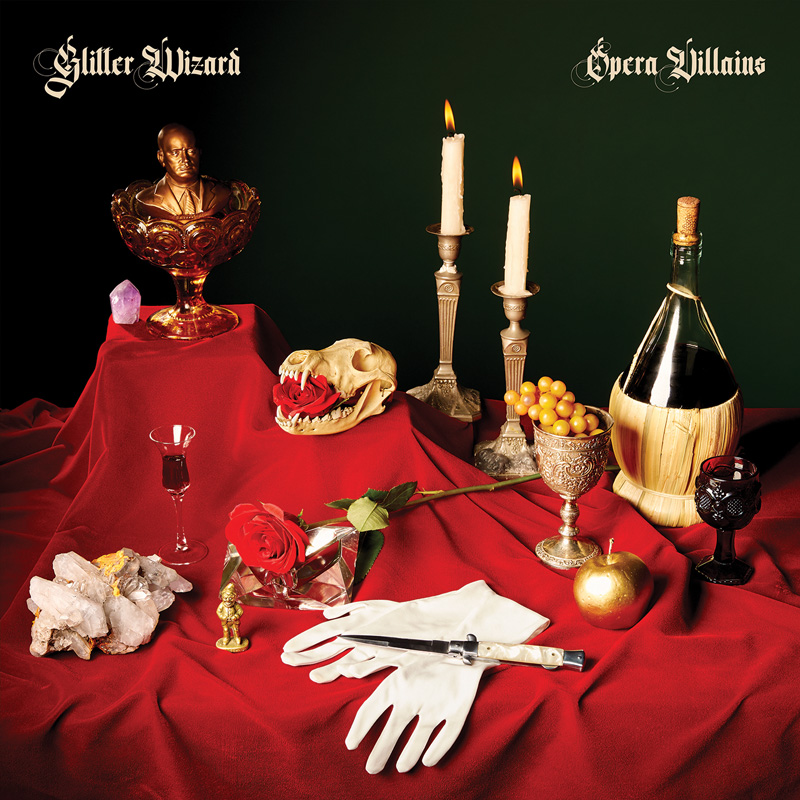 The San Francisco based
Glitter Wizard
newest album
Opera Villains
is being released on Heavy Psych Sounds Record label and that can be confusing. This is not a psychedelic rock band, they are glam, theatrical, hair metal and splashes of
Spinal Tap
which makes for a throwback record to the dinosaur play days of the 80's.
The group, Wendy Stonehenge, Doug Graves, Lorfin Terrafor, Kandi Moon, and Fancy Cymballs love toying with their Dungeons & Dragons based rock. The heavy rock sound kicks off with "Spell So Evil" with lyrics about wizards and full throttle rocking which
Black Sabbath
would be proud of, while "Toxic Lady" ups the drama on all fronts. "Ten Foot Man" and "Dead Man's Wax" put more urgency into their meta via a
Judas Priest
like riffs and laser effects which shoot through your ears before the thunder is unleashed with the pounding "March Of The Red Cloaks" instrumental.
The prerequisite power ballads also get their play as "Fear Of The Dark" finds lead vocals stretching to their ball pinching max while the dark piano lead "Rats" finds good times in pre-divorce memories while currently living in squalor.
Two elongated prog influenced numbers end the record as closer "Warm" Blood" is an epic viking influenced tail of grandeur while "Hall Of The Oyster King" uses doom laden mega riffs mixed with synths for the six minute opus (complete with flute solo) , all seriousness undercut by a "Splish Splash" lyric. That wink of humor is present from the packaging, singing and style throughout
Opera Villains
.
The players are all talented and committed to their hard rock roots and the all in concept carries the day. Equatable to an early metal version of
Steel Panther
without as much humor,
Glitter Wizard
scratch that excess heavy metal itch with
Opera Villains
.
_______________________________________________
Support
the band
, buy
the record
, stream it
on bandcamp
and peep some video below: