Mavis Staples
We Get By
**** out of *****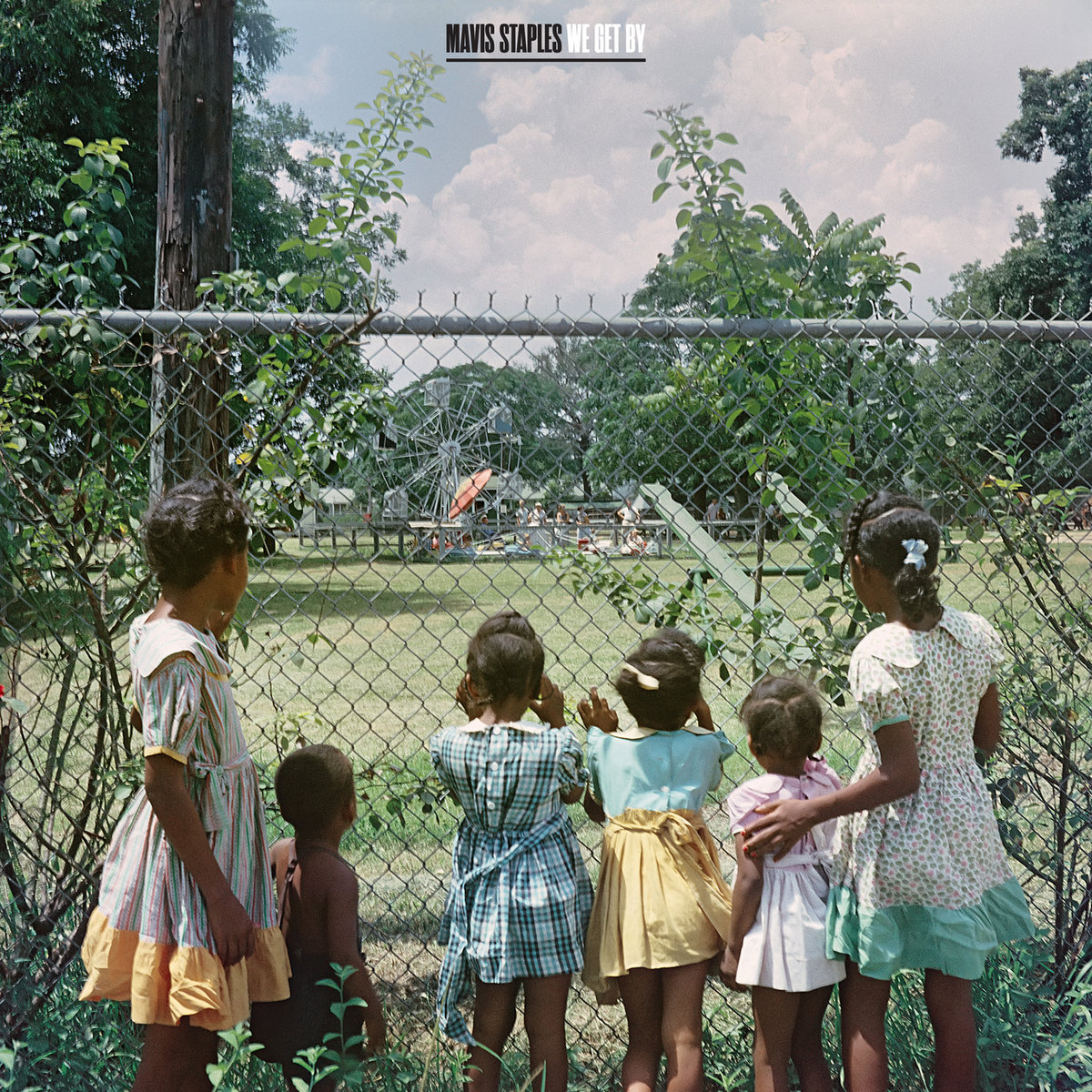 Mavis Staples late career has been filled with excellent albums full of gospel soul and splashes of funky rock and roll. Having teamed with successful artists for her last two fantastic releases, 2016's
Livin' On A High Note
produced by
M. Ward
and 2017's
If All I Was Was Black
produced by
Jeff Tweedy
she continues the trend for
We Get By
as
Ben Harper
has written and produced the album; if the style ain't broke, don't fix it.
What is broken is our current state of affairs in society and Staples is one of the few artists who was at the forefront of the civil rights movement and is still fighting for civil rights during these trying times. All of the lyrics on the record are rooted in fixing what is wrong today in general terms, calling for action to be taken. Even before the record spins the album art of
Gordon Parks'
photograph "Outside Looking In," show six black children look through a fence at a playground they can't enter where white children and families play; powerful.
"Change" sets the tone from the beginning as the fuzz rocked up guitar pairs with Staples soulful singing (and backing vocals from C. C. White Laura Mace) with direct lyrics and passion about our need to change the way we are living. Staples and crew are not afraid to get funky while she sings for change on "Anytime" or get slinky when directly addressing "Brothers and Sisters". The title track is a duet where Harper joins Staples and sounds like "Pops" Staples returning to vocalize with his daughter, eerie and affecting.
While Harper and Staples are at the forefront, guitarist and band leader Rick Holmstrom should get immense credit as well. His guitar works wonders on the minimalist "Heavy On My Mind" as just Holmstrom and Staples powerful voice carry the day. The ringing lead lines he tosses out for tracks like the grooving "Stronger" and soulful closing pair "Hard To Leave" and "One More Change" find his unique riffs supporting staples vocals gloriously.
The full band (Bass-Jeff Turmes, Drums-Stephen Hodges, Vocals-Donny Gerrard) get in gear for the gospel throwback "Sometime" complete with hand claps and bubbling bass line Mid album weeper/torch song "Never Needed Anyone" is a fine tune, but feels out of place in this collection, but that is really only one of the few negatives on
We Get By
.
Staples, her band and any producer she seems to choose continue to make top notch music album after album.
We Get By
is just another solid brick in her career wall as she continues to try to break down other walls with her singing, her sound and her positive message.
____________________________________________________
Support
the artist
, buy
the album
and peep some video below: