Jessica Hernandez & The Deltas
Secret Evil
***and1/2 out of *****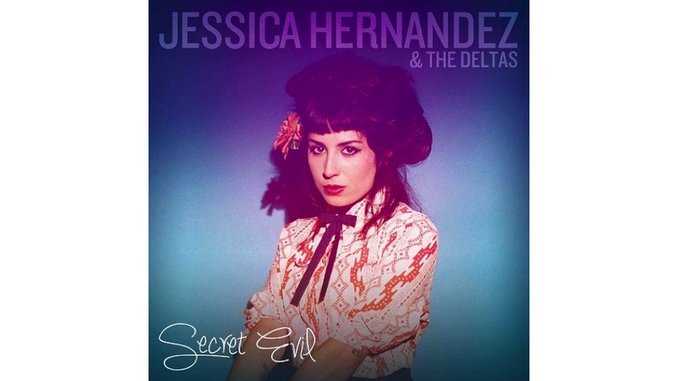 After some struggles to get released Secret Evil finally sees the light of day and is a winning combo of pop-dance-rock from Detroit's Jessica Hernandez & The Delta's. The artists signed to Blue Note but when the label folded the disk was in limbo, it finally got released on Instant Records and thankfully it was worth the wait.
Hernandez has a unique voice that can act sunshiny and slick as on the single ready "Dead Brains" or get night club sultry like when she dominates a hectic "Downtown Man". The soulful combo of "Sorry I Stole Your Man" and "Cry Cry Cry" get the retro groove vibe pulsing as Hernadez does her best lounge singer workouts. The disk closer is the sparest arraignment as "Lovers First" gives her a platform to let her voice soar and yet still feel personal.
The modern style of The Deltas ebbs and flows like the tide at times upping the beat and other times relaxing letting Hernandez own the spotlight. The pulsing dance floor ready "Over" pumps the jam as does the Blondie-like disco rock of "Now Place Left To Hide" while the strutting electric guitars and B3 sprinkle flavor on the rock and roll fueled "Caught Up". Those all work better then mid-tempo radio friendly pop of "Neck Tattoo" but things don't stay status quo for long though as "Run Run Run" takes a circus like approach with organs, maracas and dynamic vocals.
That old style of multi-genre Detroit is alive on Secret Evil as rock and roll sits comfortably next to dance pop and R&B. A standout and perhaps the best combination of the band and Hernandez's style is
"Tired Oaks" an enigmatic track that pushes along on organ twists and fuzzy bass before an upbeat chorus, all of which is surrounded by an eerie vocal undercurrent. There is a lot to like on the this debut disk and hopefully their second release finds an easier path to public ears.
____________________________________________________________________
Good stuff, Support the band here, buy the disk here, stream it here for a limited time and peep some video below:
"Tired Oak"
"Sorry I Stole Your Man" Live: