Well it is
Travers
week and we are excited to be going again. We are not sure, but we are at least up to 12 in a row at this point and are glad that the tradition continues and our friends and family still join us for a great weekend in Saratoga, New York.
To help amp up our excitement, the last few years we have written some of our favorite (and most popular) posts regarding the event. Two years ago we talked about
Songs for Gambling on Horses
, three years ago we took the money out of it and just talked about
Songs for Horses
. Last year we addressed maybe the most important aspect to playing the horses,
Songs about Luck
. This year we are switching it up a bit to pay tribute to one of the most important aspects of Saratoga,
Tom Durkin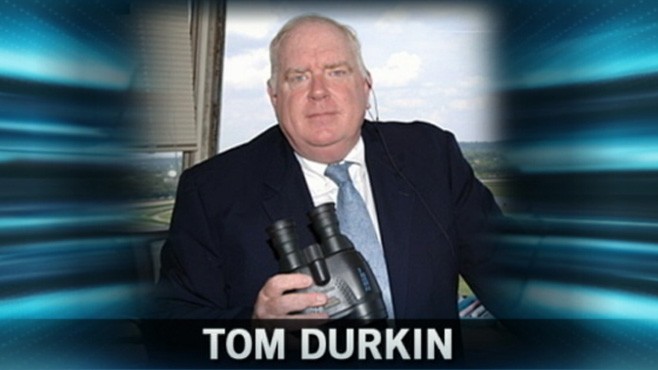 Notice I didn't say one of the most important
people
...there are lots of important people involved in Saratoga Horse Racing tradition, but Durkin is larger then a person, he is an institution and part of the overall feel as much as the red and white umbrellas and awnings. His voice and calls touch everyone who walks through the gate.
I waited to do this post during Travers week and of course someone beat me to the analogy,
but Tom Durkin really is the Vin Scully of horse racing
. He has a wit and charm and can get his point across in simple tone almost better then any announcer in any sport. If you bet at all you know the feeling when Durkin derides a favorites opening quarter time with just a slowing and dropping of his voice; tickets can almost be ripped right then and there. When there is a close call forget it, no one nails the moment better, and when a long shot wins...woo-hoo!
Durkin will be retiring this year
after the Saratoga Season so come September his voice will be gone following 24 years of calling racing for NYRA (and others) and
Larry Collmus
(who has been calling the Triple Crown and Breeders cup for a few years) will expertly take over. We wanted to do our mini tribute to Durkin who has been the soundtrack to many excellent summers in Saratoga (special thanks to
GRBG for the idea
). Here are our personal favorite Durkin Calls:
1994 Travers
An amazing race with some world class horses that fly and Durkin has a majestic call that literally gave me chills when I re-heard it..."But there is cause for Concern!!!!!":
1998 Travers
The reformed Coronado's Quest, the first Travers I can remember winning...
2003 Wood Memorial:
Not in Saratoga but the duel between Empire Maker and Funnycide was one we looked forward too and loved because we were there. We lost on the Wood (went Funnycide) but we hit on our friends horse
Nacheezmo
who we got to take a picture with in the winner circles during the last race on this day. (need to get a copy of that picture):
2008 Random Saratoga:
Fantasic calls and reasons we (and many others) love Durkin:
The 2012 Travers:
Well it helps that I think our whole group cashed out in 2012 as the amazingly rare DEAD HEAT hit and Durkin called it perfectly:
The man will be missed!
Here is a nice piece on Durkin:
and a Durkin narrated spotlight on Saratoga itself:
Thanks for all your wonderful, prose, announcing, wit and charm Mr. Durkin. Your voice will be missed from our summer gatherings. Godspeed and enjoy your well earned retirement.