The Hold Steady
Live @ Brooklyn Bowl
12/3/21 Brooklyn Bowl, Williamsburg, NY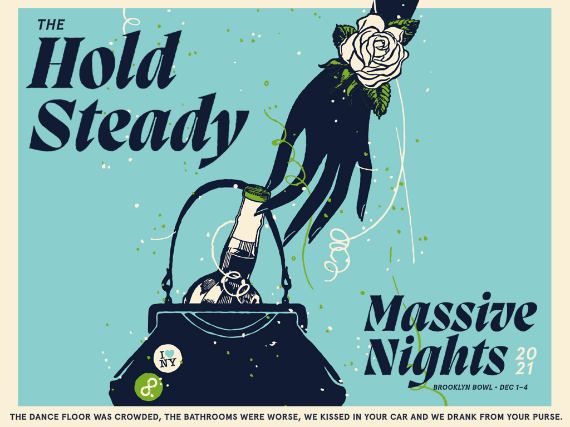 For their triumphant return to their hometown of Brooklyn, New York, and this years version of Massive Nights, The Hold Steady were in a celebratory mood from the beginning.
The chugging "Hornets! Hornets!" opened the Friday show as the band (Craig Finn - vocals/guitar, Tad Kubler - guitar/vocals, Galen Polivka - bass, Bobby Drake drums, Franz Nicolay - keys vocals, Steve Selvidge - guitar, vocals) were all smiles taking to the stage for the third night of the four night run. The joyous feelings exploded through the crowd as hand claps and sing-along's were loud and proud for "Stuck Between Stations".
The theme of the night and these last few years "it only gets harder" rang out with extra feeling in "Hurricane J" while Drake banged hard and straight ahead for the fan favorite "Chips Ahoy!" as Selvidge flashed some Eddie Van Halen tributes on the fret board. The three piece "Horn Steady" joined the band to add brass for two separate run of tunes during the main set. The first was highlighted by "Sequestered In Memphis" and the second had a dynamite version of "Banging Camp" with huge bass, killer riffs and massive energy.
The confetti flew for the always successful "Hoodrat Friend" while Kubler and Selvidge went toe to toe slinging solos on "Most People Are DJ's". The horns returned for a third time to wrap up the night as the encore saw a pumping version of "Entitlement Crew" blare out before "Killer Parties" ended the evening on a thankful not.
The band has been itching to play their home base for months and this years version of Massive Nights was a sold out success. It had something a little extra special this go around as the band and the fans have been through so much between 2020 and 2021, the fact that we were all in this together to celebrate delivered happiness for all involved.
______________________
Support
the band
, see them live and peep some video below: