The live show is a slippery thing. There are lots of variables at play, most having little to do with the performance itself. Does the venue have enough bathrooms? Is it going to rain? What day of the week is it on? Did I have a shitty day at work before hand? Did tickets cost waaay too much? All of this effects one's opinion of a live show before the band even tunes up and with reason, but when the stars align, there is no place RtBE would rather be than in the moment of magic occurring spontaneously from the stage.
Live Music Has No Equal!
Taken By The Fantastic Megan Donohue
While obviously we can't see every show that is out there, we try to get out often to catch live music. Sure there are
a few left in the calendar year
, but for now, here is a listing of the best concerts we were fortunate enough to have caught in 2021 (THANK GOD LIVE MUSIC IS BACK!).
There are links to show reviews in the titles, also because who doesn't love arbitrary rankings, one show at the bottom took the top prize as
RtBE's
2021 Favorite Live Show. We also make mention of a few live streams we enjoyed as the beginning of 2021 was still locked down for live music, but we made up for it at the end of the year seeing quite a few great ones safely in person.
Hopefully live streaming is here to stay as an added revenue source for touring artists and an extra way to live in the live moment for fans who can't make it to that city on that night. These were our favorite live streams in a year full of them:
Just
like last year
, Preservation Hall put on a show with lots of guests and made us miss New Orleans.
The bard only did one stream this whole pandemic but it was a memorable one, a film shot in a French café with a make shift band and fluid songs. Definitely unique and worth seeing and truthfully, we like these songs better than all of the
Rough and Rowdy Way
songs
we saw live in November
.
This was a show I was going to attend in person, but when it became apparent I could not, I was immensely happy to be able to stream it from my couch. This whole run from the Q was amazing, but this night was the best of the bunch, it was a joy to watch and be a virtual part of.
Live In Person Shows:
(It was precious to my soul to get to see ANY live music after so long without it, and I almost put every show I saw on this list, but developed some restraint. These were the best, and I am just so happy live music is back.)
This show took a lot of heat, being held early in NYC's reopening phase while being crowded and mostly mask-less. I was vaccinated and got to see a ton of friends while enjoying the first live show in over 19 months with long time New York Hardcore favorites. I can't lie, it was a blast, a reminder what gathering for tunes was really about, that feeling of community and living for the moment. At a time when just living felt like a win, this was a great day in the park.
Was this the last Dr. Dog Tour? They say so, but hopefully not as the scruffy Philly troubadours are always a blast live. It was great to see them this go around especially if it was the final time as it was the first large indoor event we caught during this chaotic time for health and safety. Good friends, good music, a memorable night at Terminal 5.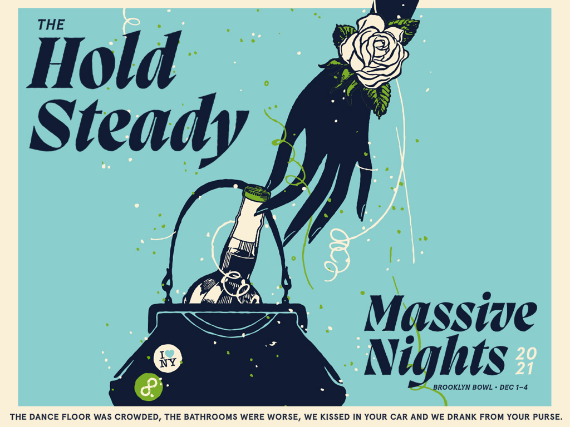 While this was a great show, it is more about the overall communal feeling that The Hold Steady brought to the Brooklyn Bowl and getting to hang out/watch the show with the the best people. A great night to be alive for rock and roll music.
Steve Earle, Bruce Springsteen, Rosanne Cash and more put on an excellent night of music for a great cause. While all were impressive, Bruce brought down the house with his four song set as The Dukes backed him. Instead of an acoustic run through, he displayed what makes him The Boss and helped Earle break a record for his annual fundraiser.
Favorite Live Show of the Year:
A blazing set of guitar rock from one of the best in the business as Samantha Fish kicked major ass on this night at Brooklyn Bowl. The only way it could have been better is if she played for even longer as she was ripping solos with fire on the fret board. A great night of blues based guitar goddess rock and roll.