Cecile McLorin Salvant
Ghost Song
***and1/2 ouf of *****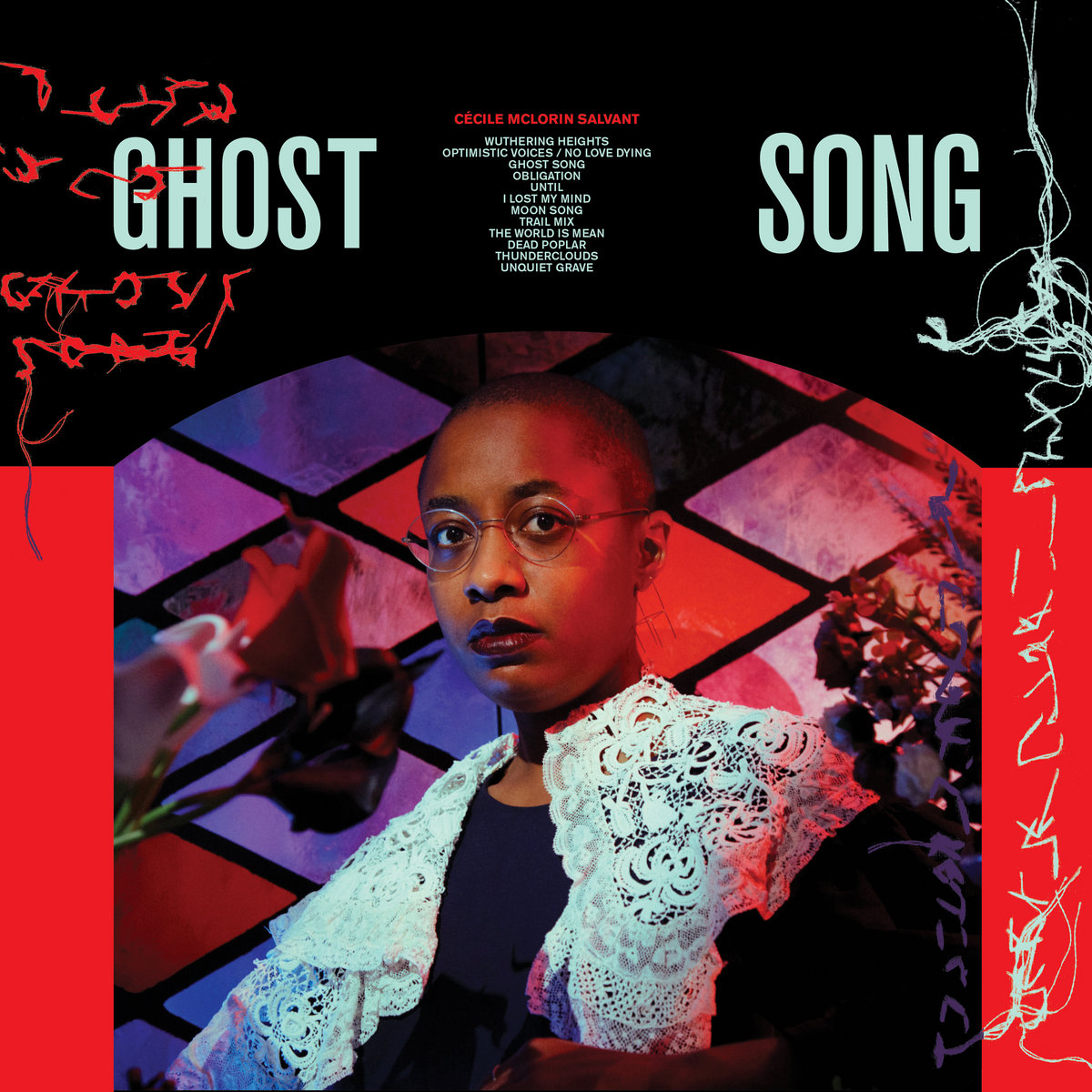 The dynamic vocalist Cecile McLorin Salvant opens her newest album with the fusion of the traditional singing in the Irish unaccompanied vocal style of sean-nós 'Cúirt Bhaile Nua' that flows midtrack into a take on Kate Bush's "Wuthering Heights". While the combo may seem odd, those juxtapositions and the following of muses is central to Salvant's Ghost Song,
The album shifts, substance and sounds, on the drop of a dime, anchored by Salvant's overarching theme of loss and powerful vocals. While Salvant has been known for her take on jazz standards, her move to more contemporary covers and original offerings here is a shift in dynamic, giving things a more personal feel.
Who would think to pair the oddly quirky "Optimistic Voices" from The Wizard of Oz with Gregory Porter's soulful r&b of "No Love Dying"? That is exactly what happens on the second track and while the end result is a bit disorientating, that is the point. The world shifts from under us and while we can't always be ready for loss, we need to adapt anyway.
Her first original is also Salvant's best as the title track uses layers of instrumentation and singing before fading into children's vocals intersecting and repeating the theme, passing it to the next generation. Salvant brings the questions of love/sex/desire into spoken word poetry with some singing on "Obligation" while "I Lost My Mind" is a piano weeper that Salvant wrote during the heart of the pandemic which increases the gothic madness with repetitive pipe organs ala Carnival of Souls which rise as repeated phrases circulate. These originals are effective but can also feel more like artistic sketches rather than songs to return to often.
"Moon Song" is more standard torch song style as Salvant's vocals soar over piano and soft drums while "Trail Mix" is a solo piano number that acts like an odd place holder. The closing trio of originals are love songs that again experiment with style. "Dead Poplar" uses acoustic guitars and scales of vocals, "Thunderclouds" delivers pretty folk influenced pop and "Unquiet Grave" ties back into the opening isolated vocal style, each track sweet in their sounds.
While Salvant's originals feel like works in progresses, when she returns to covers she can elevate the originals such as on Sting's "Until" using piano and rising dynamics before funky flute work from Alexa Tarantino leads to a soaring musical journey that morphs into a Latin-inspired shuffle. The standard "The World Is Mean" also gets an airing, with more of Tarantino's dynamic flute work and strong vocals from Salvant.
A transitional and personal album Ghost Song finds Cecile McLorin Salvant moving above and beyond traditional jazz vocalist pegging. As she says, Salvant is embracing the weird and it will be interesting to see where she continues to travel.
________________________